Warzone Pacific Playlists for the Week of Dec. 9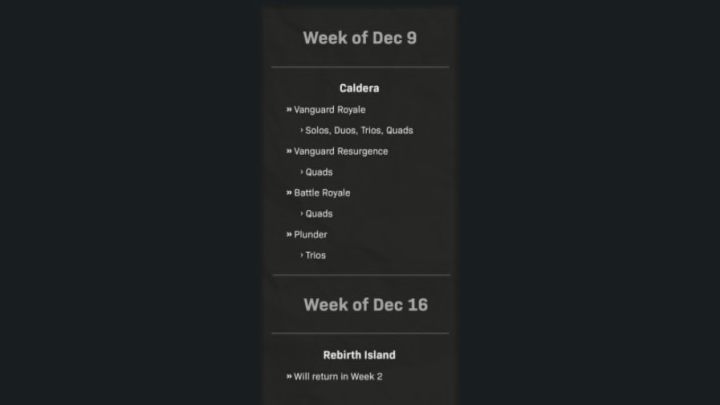 Photo by Activision
Warzone Pacific has arrived, and with it we see the first playlist update for Caldera since its release into Warzone.
In the Playlist Update we see a multitude of game modes available, ranging from solos all the way to quads. This will allow for any group of friends to have fun and also allow the solo machines who want to run-and-gun get into the action.
Warzone Pacific Playlists Week of Dec. 9
Along with a playlist update, we see the Ricochet Anti-Cheat has also arrived and fans have been waiting for months for this to finally drop and stop hackers from ruining the game.
Here is what the Warzone Pacific Playlists look like after the update:
Caldera
Vanguard Royale

Solos, Duos, Trios, and Quads
The new playlist update allows players to experience the new Warzone experience in a multitude of ways without having to worry about what number of friends are online at any given moment.
All four of the current game modes allow you to experience something new and fresh about the map and get used to its features.
For more Warzone news, check out our recent articles about how much the Warzone Pacific Season 1 Battle Pass costs.