Warzone Ram-7 Build Guide: How to Dominate with the Ram-7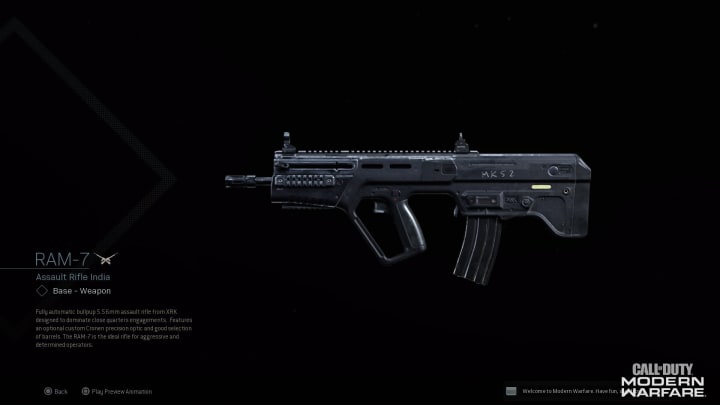 A Warzone Ram-7 build will vary from player to player and is best for medium-range engagements. / Photo Courtesy of Infinity Ward
A Warzone Ram-7 build will vary from player to player and is best for medium-range engagements.
Warzone Ram-7 Build
Here are five attachments you should equip to your Ram-7 for added range and control.
Warzone Ram-7 Build: Monolithic Suppressor
The Monolithic Suppressor is a popular Muzzle great for almost any weapon type. It provides superior sound suppression and increases the range. The moderate weight increase affects your aim down sight speed and aim walking steadines, but it's hardly noticeable.
Warzone Ram-7 Build: XRK Ranger
This barrel provides ultimate damage range and accuracy to give you great recoil control. Your mobility takes a big hit, so play smart when this weapon is equipped.
Warzone Ram-7 Build: Integral Hybrid
This sight offers a reflex and scout toggle that allows you to switch between the popular Operator Reflex and the 3.25x Scout.
Warzone Ram-7 Build: Tactical Foregrip
The Tactical Foregrip is excellent for aiming stability. The streamlined foregrip provides superior control acquiring targets but takes a slight hit in mobility.
Warzone Ram-7 Build: 50 Round Mags
50 Round Mags increase your ammo capacity.
Check out our other build guides for popular weapons in Warzone: