Warzone Redditor Showcases Swift 'Denominator' Stoner 63 Triple Kill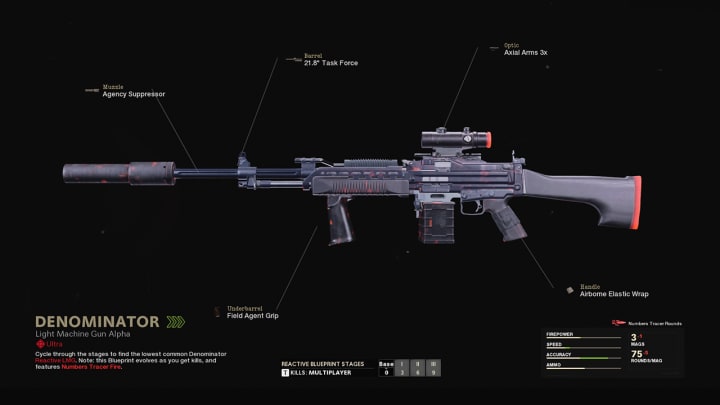 One Warzone Reddit user uploaded a video showcasing the pure power of the Denominator blueprint build for the Black Ops Cold War Stoner 63 LMG. / GamesAtlas, Activision
One Warzone Reddit user uploaded a video showcasing the pure power of the Denominator blueprint build for the Black Ops Cold War (BOCW) Stoner 63 light machine gun (LMG).
On Wednesday, March 30, Reddit user neekhac uploaded a short 30-second video using the once-meta Stoner 63 in Rebirth Island. If the clip is anything to go by, Warzone players may be in for a resurgence of this weapon and its blueprint—the Denominator—following the latest update on March 23.
"The red Stoner 63 you find in Bio is actually pretty good," they wrote in their post.
Reddit User Showcases 'Denominator' Stoner 63 Blueprint in Action
In the video, viewers drop in on neekhac finding the Denominator sitting in a large metal basin. They pick it up and equip it instantly before heading up out of the building and directly into the line of fire. Taking a few hits, they make a run for the adjacent building and re-up their armor plates while searching for a place to get some picks.
They run through the building in a straight line—luring the pursuing players, no doubt—until they find a piece of cover in a long corridor. Neekhac takes cover there and whips around just in time to see three players come racing through the door from whence they came. All three are downed in a matter of six seconds with the last getting a personal execution.
Some commentors commended neekhac on their play while others began to relive the nostalgia of when the Stoner 63 was part of the meta. A few started to speculate that this LMG could be in for a comeback with one fan noting it may have a lower TTK than the Bren—if something could be done about its recoil.
For those interested, the Denominator is a blueprint and is available as part of the legendary Tracer Pack: Brain Washed Reactive Bundle.