Call of Duty
Warzone Season 2 Reloaded to Introduce File Size Reduction Across All Platforms
By Max Mallow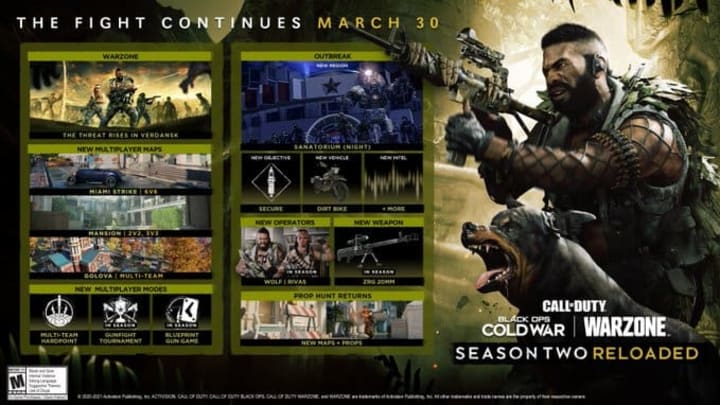 Photo by Activison/Treyarch
Call of Duty: Black Ops Cold War and Warzone Season 2 Reloaded were announced March 29 as fans prepare for the mid-season update.
Season 2 Reloaded is set to introduce a vast array of changes for Cold War multiplayer. There are three new maps joining the set: Miami Strike, Mansion and Golova. Along with new multiplayer modes and zombies experiences, there's also a new ZRG 20mm sniper rifle coming sometime during the update.
Perhaps the most exciting news for Warzone fans is a file size reduction so fans won't have to further compromise storage on whatever platform they use.
Warzone Season 2 Reloaded to Introduce File Size Reduction Across All Platforms
"Season Two Reloaded also brings great news of a lower, optimized file size across Warzone. Those who own the full version of Modern Warfare/Warzone, or who own the free-to-play Warzone game, will find their overall file size footprint reduced on their respective platform," Activision and Treyarch said in the Call of Duty blog post.
Here are the expected new file sizes for each platform, according to the blog post:
PlayStation 5: 10.9 GB (Warzone Only) / 30.6 GB (Warzone and Modern Warfare)
PlayStation 4: 10.9 GB / 30.6 GB
Xbox Series X / Xbox Series S: 14.2 GB / 33.6 GB
Xbox One: 14.2 GB / 33.6 GB
PC: 11.8 GB / 30.6 GB
Call of Duty: Black Ops Cold War and Season 2 Reloaded goes live March 30.