Warzone Sniper Rifles Tier List - June 2020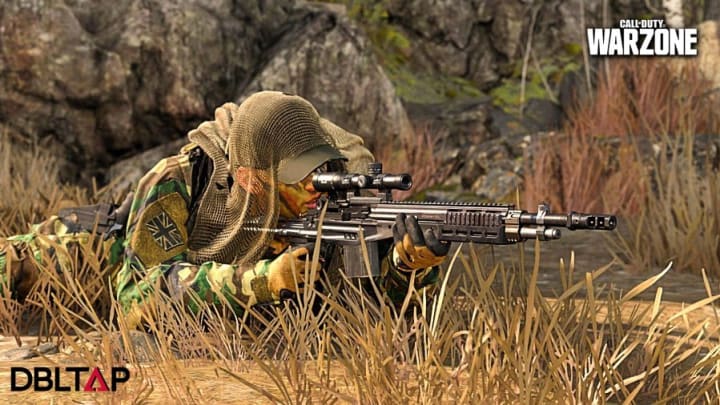 Want to know the best Sniper Rifle for Warzone? Keep reading my ghillie suited friend. / Photo by Chaz Frazer / DBLTAP
Warzone Sniper Rifles tier lists include a shifting meta in the game now that we are in June. Running a Sniper Rifle build in early to mid-game situations still holds weight, and as you make your way to end game your loadout might include a build that forgoes the Sniper in favor of two full-auto primary weapons - usually one Assault Rifle and one Submachine Gun.
Early and mid-game builds are incredibly important in Call of Duty: Modern Warfare - Warzone, and the right build will ensure that you survive long enough to get your second loadout - whatever that may be. Rocking the right Sniper Rifle in these first loadouts will help ensure you and your team have a fighting chance to survive that long. 
Warzone Sniper Rifles Tier List - AX-50 vs HDR
In breaking down the best Sniper Rifles in Warzone, it is important to note that while the EBR is technically a Sniper, the semi-auto fire action and lack of 1-shot kill potential on an enemy with full health and full armor relegates this weapon to an automatic third place. Going forward we will treat it as such and look to compare the AX-50 vs the HDR, the two bolt-action Sniper Rifles in the game.
The HDR gains a significant advantage in ADS time when stacking attachments / Photo courtesy of The Xclusive Ace
While they both sport identical damage profiles, the HDR has the upper and when taking damage drop-off at extreme ranges into consideration. / Photo courtesy of The Xclusive Ace
The AX-50 excels in the rate of fire department, making it a better option for sniping on the move or counter-sniping battles. / Photo courtesy of The Xclusive Ace
The AX-50 has a bit more zoom and peripheral vision with the default sniper scope. Take this into consideration when zooming in at long ranges. / Photo courtesy of The Xclusive Ace
Looking at the stats for both weapons, and considering the damage ranges, bullet drop attachments and handling. The AX-50 is clearly more suited to closer range engagements and counter sniping, while the HDR excels in extremely long ranges and offers superior accuracy.
While subjective in every way, taking into account the types of ranges you will find yourself in when using a sniper rifle, and the sheer size of the map of Verdansk, I'd give the HDR a leg up in the sniper rifle battle - at least in Warzone. The ability to snipe at extremely long ranges, less penalty when introducing attachments to increase maximum range, and mostly ignore bullet drop, the HDR is a bit easier to use in Warzone given your accuracy is on point.
Using the AX-50 is great for aggressive style play, and works best when you are covered by teammates while sniping on the move, but the ability of the HDR to let you set up shop and decimate enemies from anywhere on the map as long as you have a line of sight, gives it the number 1 spot in my book.
Sniper Rifle Tier List Warzone
S Tier
- HDR (bolt-action)
A Tier
- AX-50 (bolt-action)
C Tier
- EBR (semi-auto)
Of course, this is all personal opinion, and what works for you may be different. Whatever you choose to drop into Warzone with, if you are logging kills and Warzone Victories - more power to you.