Call of Duty
Warzone, Vanguard Mastercraft Ultimate Pack Price Raises Eyebrows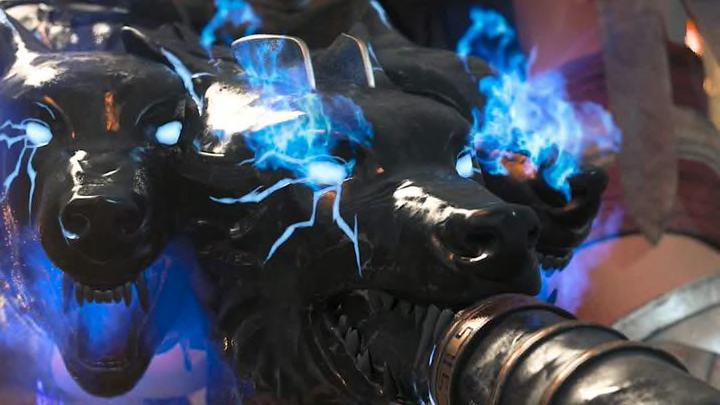 The Hell Hounds Mastercraft Ultimate Pack is now available in Call of Duty: Vanguard and Warzone. / Courtesy of Activision
Activision has announced a Mastercraft Ultimate Pack of cosmetics for Call of Duty: Warzone and Vanguard, and its $40 price point has some players experiencing sticker shock.
The Hell Hounds pack includes 5,000 Call of Duty Points plus a huge number of in-game cosmetics:
Gatekeeper Ultra Blueprint for the Armaguerra 43 SMG
Legendary Adamantine Operator Skin for Anna
Legendary Hesiodic Maxim Blueprint for the Bar Assault Rifle
Legendary Ivy Blood Blueprint for the NZ-41 Assault Rifle
Legendary Eleusinian Blueprint for the 1911 Pistol
Legendary Virescent Steel Blueprint for the Gracey Auto Shotgun
Epic Unmuzzled Emblem
Epic Rabid Mongrel Emblem
Epic Hounds of Hell Calling Card
Epic Animus Intent Calling Card
Epic Growling Guardian Weapon Charm
Epic Jump to Conclusion Play of the Game Intro
Epic Underworld Daemon Sticker
Epic Omen of Hell Spray
Rare Skeleton Key Charm
Rare Sanguineous Sticker
Rare Box Out Reticle
Some fans have had knee-jerk reactions to the price of the pack, as a $40 cosmetic pack is among the most expensive Vanguard and Warzone have received. Truthfully, the pack is a strong value proposition. Normally, it would cost $40 to buy the 5,000 COD points included in the bundle on their own; this bundle throws in a huge number of additional cosmetics as added bonuses.
Of course, players considering the purchase will have to weigh its many included cosmetics against the 1,000 COD points they could receive instead by making a straightforward COD points purchase for $40.
The Hell Hounds Mastercraft Ultimate Pack is now available via the in-game store.