Warzone Weapon Tier List May 2020: Best Pistol to Use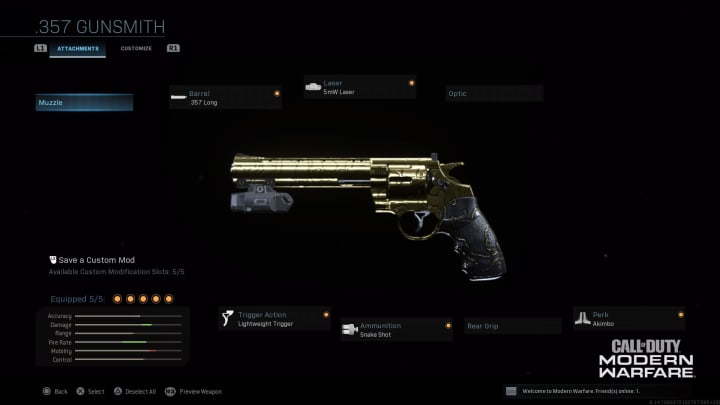 Warzone weapon tier list May 2020 features numerous changes following the latest Akimbo release to Call of Duty: Modern Warfare. / Photo Courtesy of Infinity Ward
Warzone weapon tier list May 2020 features numerous changes following the Akimbo craze in Call of Duty: Modern Warfare.
Released in early March, Warzone is a free-to-play battle royale mode that has become one of the most popular titles on the market. Although the pistols run relatively the same in Multiplayer, here are some of the best pistols to use in Warzone separated by tiers.
Warzone Weapon Tier List May 2020: Best Pistol to Use
S Tier
These two weapons, when Akimbo is equipped, are some of the most deadly two tap pistols in Warzone. They are both so overpowered at the moment, that, if you aren't running them to use in close-quarter engagements, you're in trouble. Without Akimbo, these pistols are nearly impossible to use unless your aim is next to perfect. Although, when you have two of these pistols in hand hip firing lasers, enemies don't stand a chance.
A Tier
These pistols offer a large ammo capacity and a fast rate of fire. They run relatively the same and are great for those in need of a reliable firearm. The M19 is the current Multiplayer meta, but it runs just fine in Warzone too.
B Tier
There is nothing special about this pistol. It's not bad, but it's not good, either. The short clip and slower rate of fire require precision from calculated players. If you want a faster secondary, this isn't the pistol for you.