Watchful Eye Warzone Blueprint: How to Get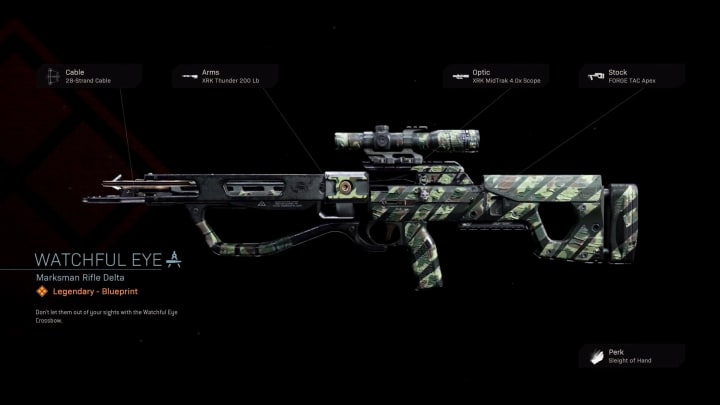 Check out the Watchful Eye Crossbow Blueprint / Photo courtesy of Activision
Watchful Eye Warzone Blueprint for the crossbow gives fans a tricked out version of a unique weapon.
If you're a fan of crossbows and camouflage, then Call of Duty: Warzone has something for you. The Watchful Eye Warzone Blueprint is available now as part of the Asanbosam store bundle. The Blueprint has standard woodlands camo along with a skull giving it a deathly design. The legendary blueprint comes with five attachments including:
28 Strand Cable
XRK Thunder 200Lb - Arms
XRK MidTrak 4.0x Scope - Optic
FORGE TAC Apex - Stock
Sleight of Hand - Perk
Watchful Eye Warzone Blueprint: How to Get
As of writing, the only way to unlock the Watchful Eye blueprint is by purchasing the Asanbosam store bundle for 2,400 COD points. Players will get their moneys worth, as this bundle is rather large and contains multiple legendary items. The items in the bundle are:
Nightfang - Grinch Skin
Watchful Eye Blueprint - Crossbow
Black Fang Blueprint - .357 Handgun
Folktale - Charm
Grassclipper - Combat Knife
Low Rise - Finishing Move
Join the Others - Operator Quip
Wrong Angel - Calling Card
Devil Horns - Emblem
2 Tier Skips - Battle Pass
It might not be the most attractive bundle for Warzone players looking for a Grau 5.56 or AX-50 skin, but the value in the bundle can't be understated.