Weston McKennie FIFA 22: How to Complete the FUT Showdown SBC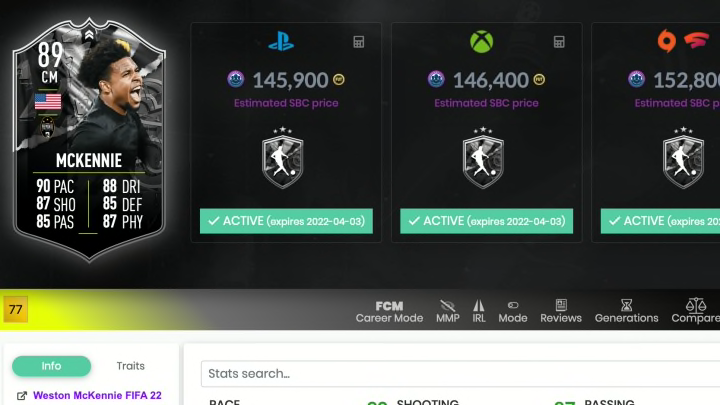 Weston McKennie. / Courtesy of FUTBIN
Weston McKennie has received a special FUT Showdown SBC in FIFA 22 ahead of his team's match against Inter Milano on April 3 in the Serie A.
EA Sports releases Showdown SBCs periodically during Ultimate Team cycles, wherein two players are highlighted from a premier matchup in world football. Each player — one representative from each team — receives an initial upgrade with the ability to upgrade even further. The player from the winning team receives a +2 boost, while the loser stays the same. If the two teams draw, both players receive a +1 overall boost. 
McKennie represents Piemonte Calcio, while Marcelo Brozovic represents Inter.
Weston McKennie FIFA 22: How to Complete the FUT Showdown SBC
McKennie's Showdown SBC requires two squad segments to complete, with the following requirements:
Squad 1
Players from Piemonte Calcio: Min. 1
TOTW Players: Min. 1
Team Rating: Min. 83
Team Chemistry: Min. 70
Reward: Premium Mixed Players Pack
Squad 2
Players from Serie A: Min. 1
Team Rating: Min. 86
Team Chemistry: Min. 60
Reward: Prime Electrum Players Pack
McKennie looks like a great CM for Serie A teams. With the upgrade potential, as well as links to Headliners Zakaria and other Piemonte Calcio players in FIFA 22, McKennie could be very valuable to add to your FUT club.
The McKennie and Brozovic SBCs are available until Sunday, April 3 at 1 p.m EST, prior to the players' face-off in the Serie A.