What Are FIFA 23 TOTS Award Winners Cards?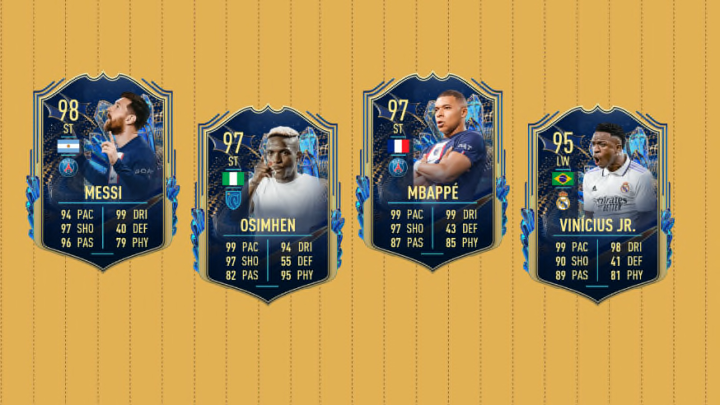 EA Sports
FIFA 23 TOTS Award Winners cards were released June 9 as part of Ultimate Team of the Season.
Ultimate Team of the Season is finally here marking what's likely the final week of the promotion in FIFA 23 Ultimate Team. The Ultimate TOTS squad features the best of the best from leagues across the world. Items like Lionel Messi, Kylian Mbappe, Vinicius Jr. and Victor Osimhen are back in packs for a limted time. Also, there's a new card type called TOTS Award Winners available in packs.
TOTS Award Winner cards honor players from domestic leagues who received special honors like Golden Boot, Player of the Season and more.
But, is there anything special about these new TOTS cards? Here's what you need to know.
What Are FIFA 23 TOTS Award Winners Cards?
Funny enough, there's nothing different about a TOTS Award Winner card compared to the player's original TOTS card. The only difference between say Mbappe's TOTS and TOTS Award Winner cards are the card design.
Here's the full list of TOTS Award Winners:
Kylian Mbappe
Erling Haaland
Jude Bellingham
Victor Osimhen
Robert Lewandowski
Khvicha Kvaratskhelia
Christopher Nkunku
Marc-Andre Ter Stegen
Perhaps it's a fun, little collectible feature to show off that you packed a super-limited card, but what's the overall point from EA Sports? Why not give these cards an additional boost, even a small one at that?
FIFA 23 Ultimate TOTS and TOTS Award Winners cards are now available in packs.