What is a Level Up Quest Pack in Fortnite?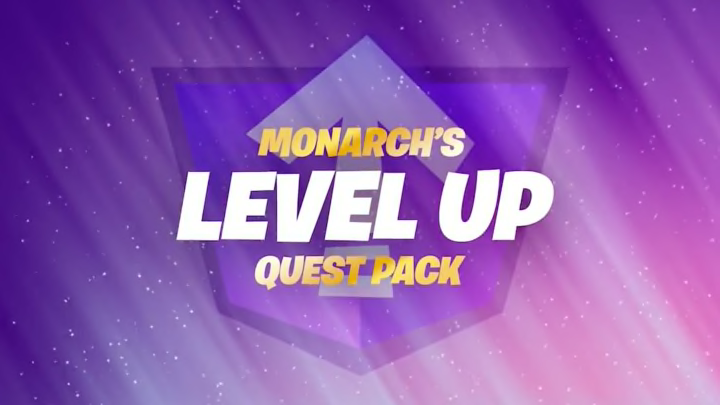 Image courtesy of Epic Games
Epic Games has added a new purchasable pack to Fortnite, but players might be wondering: what is a Level Up Quest Pack?
Yesterday, Epic Games announced the new Monarch's Level Up Quest Pack available for players to purchase from the Item Shop. This pack not only offers players some exclusive Quests to take part in, but also some brand new cosmetics to get their hands on.
The Level Up Quest Pack is a brand new type of pack available to players, meaning there's bound to be some confusion over what it's actually for. Thankfully, we've detailed everything you need to know about the new Level Up Quest Pack.
What is a Level Up Quest Pack in Fortnite?
Level Up Quest Packs in Fortnite are actually pretty self-explanatory. They provide players with a series of Quests, which upon completing each of them, award players with a level up on their Battle Pass.
These Quests won't be available all at once. Instead, seven new Level Up Quests are released every week for four consecutive weeks, totalling up to 28 Quests. This means that players are able to level up a total of 28 times using this pack.
But, that's not all. Purchasing the pack and then completing the Quests also rewards players with a number of cosmetics. Check out our breakdown of the first available Level Up Quest Pack to see what's on offer.
If you're worried about wasting a Level Up Quest, there's no need. Regardless of how close you are to the next level, completing a Level Up Quest will carry over that XP. For example: if you're at Level 80 with only 15,000 XP away from Level 81, using a Level Up Quest will put you at Level 81with 15,000 XP away from Level 82.
When Does the Level Up Pack Expire in Fortnite?
Level Up Quest Packs are intended to be seasonal items. So, the Quests and content will only be available from the pack's launch date until the end of the season.
Players who purchase the Quest Pack after the first week will still have access to their current week and any previous. For example, if you purchase the pack during Week 2, you'll have access to both the Week 1 and 2 Quests and rewards.