What is the Fortnite Creative Mayhem Event?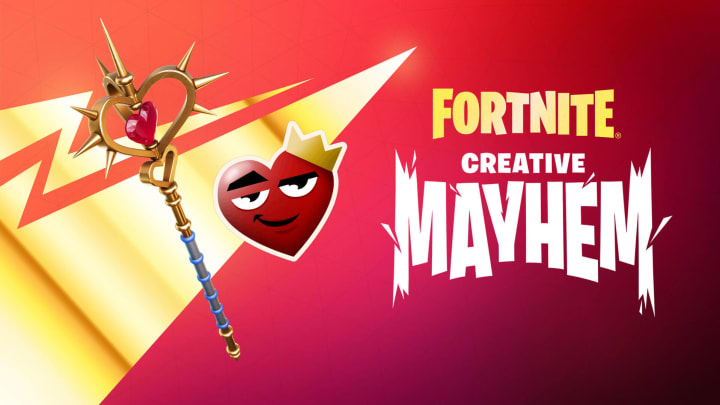 Image courtesy of Epic Games
Love is in the air with Fortnite's latest Creative Mayhem event. But what is it?
If you've logged into Fortnite these past few days, or checked in with the community, you likely would have seen plenty of talk around the game's Creative Mayhem event. Aside from a possible Valentine's Day theme, you might not be privy to much information regarding the content.
Well, Creative Mayhem sees players attempting to speedrun through a Creative map. After submitting their time, players' submissions are then reviewed to determine who qualifies for the main competition. All Fortnite players have a chance to showoff their speedrunning skills, face off against some of their favorite Fortnite influencers, and try to make it to the Global Finals with a grand total of $100,000 up for grabs.
So how does it work, and what do players need to know?
How Does Fortnite's Creative Mayhem Event Work?
It's important to note that any Fortnite players can give this challenge a go. All they'll need to do is submit a best map time on the Creative Mayhem website from Feb. 7 at 9 a.m. ET to Feb. 14 at 9 a.m. ET to enter.
Simply signing up on the website will unlock the Love Reigns Emoticon. Those who play on the Creative Mayhem map for 30 minutes or more will unlock a bonus Mace of Hearts Pickaxe reward. The map can be accessed from the Creative hub or via the following Island code: 7266-3680-0768.
The Love Reigns Emoticon and the Mace of Hearts Pickaxe. / Image courtesy of Epic Games
To submit a time, players should follow the below steps:
Sign up on the website with your Epic Games account.
Play through the Creative Mayhem map.
Record your runthrough on the Creative map
Choose your favorite Creator.
Upload your video on YouTube.
Share the link to your video and your best time on the website.
The top qualifiers will be invited to take part in the main Creative Mayhem event alongside the Creators they selected. Uploaded videos will be reviewed from Feb. 15 to Feb. 22.
Selected players will face off against eight Fortnite influencers and their communities to determine their country's or region's champion. Following the qualifiers, one Creator and their community will represent their region or country in the Global Finals.
Qualifier Dates
Feb. 26-27, 2022: France, Poland, Germany, Italy
Feb. 26-27, 2022: Russia, Middle East, Spain, North America
March 5-6, 2022: South America, Brazil, Australia, Japan
Grand Finals Dates
March 12, 2022: Top team from each region
Think you're up for the challenge? Be sure to head over to the Creative Mayhem website to find out.