What Level Do You Get Skull Shot in Warzone?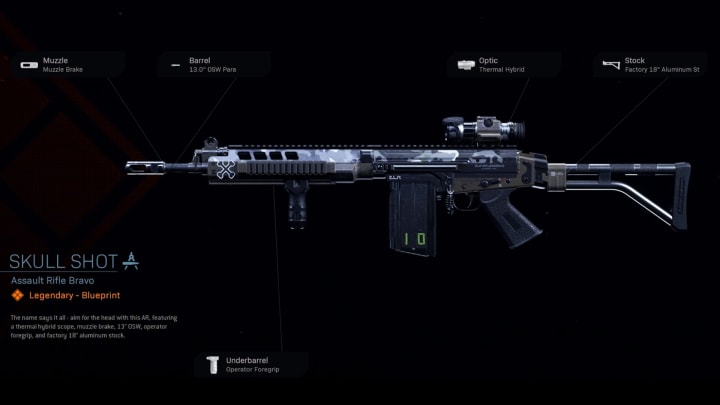 Skull Shot in Warzone is available through a purchasable DLC. / Courtesy of Activision, Infinity Ward
What level do you get Skull Shot in Warzone, is a common question and misconception within the game.
TRY TWITCH PRIME FREE: 30-day free trials available now at Amazon!
The Skull Shot bundle in Warzone is a legendary blueprint that can be equipped to the FAL. Included within the purchasable "Bone Dry" DLC bundle, the Skull Shot variant turns the FAL into the DSA-58 OSW.
What Level Do You Get Skull Shot in Warzone?
By default, the Skull Shot legendary blueprint comes with an attached Muzzle Brake, a 13.0'' OSW Para barrel, a Thermal Hybrid optic, a Factory 18'' Aluminum stock, and an Operator Foregrip underbarrel.
Here's how each of these attachments will initially aid in upgrading your AR:
Muzzle: Muzzle Brake - helps with stabilizing recoil
Barrel: 13.0" OSW Para - helps with ADS (aim down sight) and movement speed
Optic: Thermal Hybrid - equips a zooming thermal scope
Stock: Factory 18" Aluminum - helps with aim walking movement speed
Underbarrel: Operator Foregrip - helps with recoil control
The "Bone Dry" bundle also features the Quick Snap - an Uzi blueprint -, the Fishbones charm, and the Cross Bones sticker. All of this is available within the in-game store for 1600 CP (COD Points).
If not comfortable with the FAL in your hands, try obtaining a blueprint for the M13 assault rifle.