Where are the Fortnite Birthday Cakes?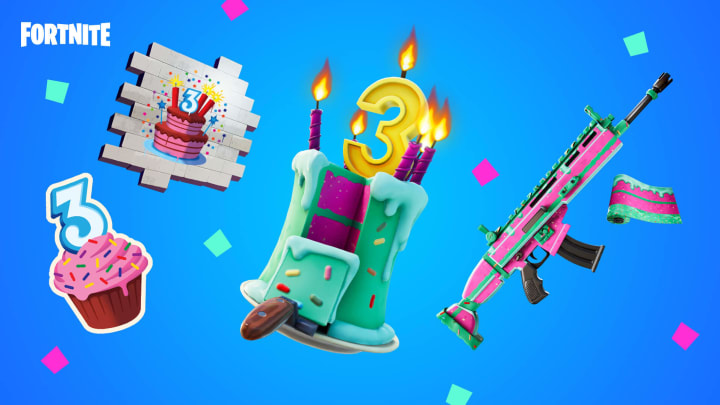 Where do you find the cakes for the Fortnite birthday challenges? / Photo by Epic Games
Where are the Fortnite birthday cakes? You'll need to locate birthday cakes in Fortnite to complete the anniversary challenges. Luckily, the cakes are bright, colorful, and easy to find.
Where are the Fortnite Birthday Cakes?
There are 10 cakes you can find.
Sweaty Sands- At the pier entrance
Doom's Domain- By the Doctor Doom statue
Holly Hedges- In the nursery parking lot
Slurpy Swamp- By the Respawn Van
Retail Row- Across the bus stop
Dirty Docks- Between two buildings across the main warehouse
Misty Meadows- By the fountain
Lazy Lake- By the Respawn Van
Salty Springs- By the Respawn Van
Weeping Woods- In the north lodge
When you've found the cakes, you have to dance in front of them and gain a shield or health from eating cake. Each piece of cake gets you five health or shield, and you need to earn 50 health to complete the challenge. You can eat a piece of cake at each of the 10 locations to complete both challenges concurrently.
It'll be difficult to find all the cakes in one game, so be sure to check out the cakes in each location as you pass through. If you hit up Misty Meadows first, you could claim the Choppa in the lake and quickly get around to the other cakes.
Dancing at all 10 cake locations will earn you the Cakey weapon wrap, and recovering health or shields gets you 80,000 XP.
You have until Oct. 1 to wrap up your birthday challenges.