Where is Impossible Rock in Fortnite Chapter 3 Season 1?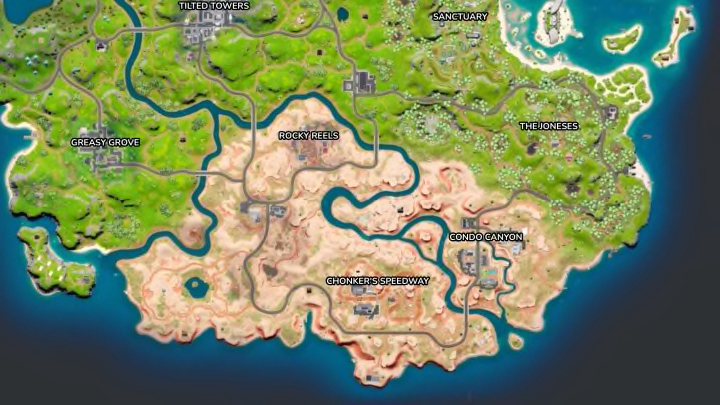 Image courtesy of Epic Games/fortnite.gg
Looking for Impossible Rock in Fortnite Chapter 3: Season 1? Here's what you need to know.
Certain quests might ask you to head to a very specific location. It could be to get there within a single match, harvest materials, or to simply land there from the get-go. Whatever your reason, when it comes to named locations this isn't much of a problem. The map tells you exactly where everything is. As for landmarks, however, that can be a different story.
Finding landmarks, like Impossible Rock, isn't always so simple when you're just looking at the map. Making a mental note of where you found one the first time is certainly one way to do it, but unless you're playing an obscene amount of Fornite, it's unlikely you'll remember every one.
As for Impossible Rock, fortunately we can tell you exactly where you need to look.
Where is Impossible Rock in Fortnite Chapter 3 Season 1?
In Fortnite Chapter 3: Season 1, Impossible Rock can be found between Rocky Reels, Condo Canyon and Chonker's Speedway. If you're unsure where these aer, head to the desert-like area of the map to the south.
image courtesy of fortnite.gg
Impossible Rock can be easily distinguished from any of the surrounding rocks. You'll see it as an almost upside down rock, dangerously balancing on top of a larger, plateau-like rock. If it makes you think "how's it doing that?" or "that's impossible," then you've found it.
There's a zipwire leading up to the top of Impossible Rock, which makes for a great vantage point if you're carrying some decent scoped weapons. Try finding it in your next match, and see if the area works for you.