Top Games
Where is the Christmas Tree in NBA 2K22: Current and Next Gen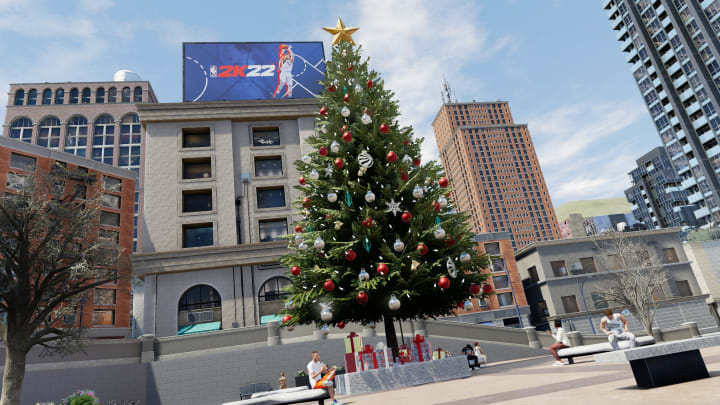 Image courtesy of 2K
The holiday festivities are off and running in NBA 2K22 and among them is the return of the Christmas Tree in MyCareer on both Current Gen and Next Gen.
For those looking to test their luck in hopes of getting some major rewards for free, here's a breakdown of where the Christmas Tree is in NBA 2K22 MyCareer on Current Gen and Next Gen.
Where is the Christmas Tree in NBA 2K22: Current and Next Gen
As is tradition with recent NBA 2K titles, 2K and Visual Concepts have brought back one of their most generous holiday features — the Christmas Tree.
Those on both Current Gen and Next Gen can head to their respective MyPlayer parks today to see what gifts they got this year in-game.
For those on Current Gen, the tree can be found on the Cancha Del Mar next to the Rec Center, while those in the Next Gen City can find it located near the Western Wildcats' City Hall behind the MyTeam building.
As far as the potential prizes players can pull goes, I personally got 5,000 VC, a handful of Gatorade Boosts, and a Player Banner.
However, others seem to be reporting that they've received anywhere between 500 to 250,000 VC, Christmas-themed clothing items, and even unlimited boosts.
At the time of writing, 2K has released three Christmas day locker codes as well for NBA 2K22:
LAL-ATL-NEW-YEAR: Two Guaranteed MyTeam Players and Gatorade Boosts
HAPPY-NBA2K-HOLIDAYS: Two XP Coins, a Holiday Player Panel, and a Holiday skateboard
NBA-75-PINK-DIAMOND: MyTeam Option Pack for Pink Diamond Jason Kidd, Clyde Drexler, Moses Malone, Nate Thurmond or Larry Bird