Where is the Durrr Burger in Fortnite?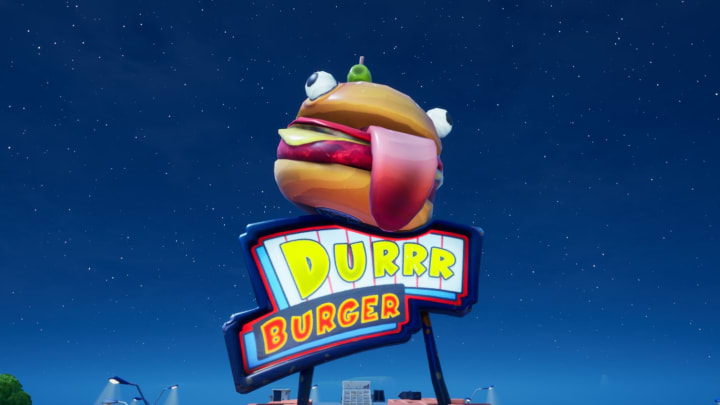 Finding the Durrr Burger is relatively simple, and if you're finishing weekly challenges, it should be a breeze. | Photo by Maxleonoyt, Epic Games /
Where is the Durrr Burger in Fortnite?
This week's Fortnite challenges ask for the player to find out where the Durrr Burger restaurant and to either dance in its kitchen or to drive from the restaurant to Pizza Pit without stopping.
Heading into the eighth week of challenges for Fortnite Chapter 2 Season 6, players are tasked with finding the location.
Where is the Durrr Burger in Fortnite?
Finding Durrr Burger is pretty easy, but as with other challenges, it may be a contentious zone as other players try to finish their weekly challenges as well. So, it's sound advice to be well-equipped, otherwise, other players will be dancing in the kitchen instead.
Head to the western end of the map, left of all the trees by Weeping Woods or slightly southeast of Holly Hedges. There will be a road around it and on the map just looks like a plaza with brick walls surrounding the perimeter of it.
Photo by Epic Games /
The restaurant should not be hard to miss as it sits on top of the store with a massive Durrr Burger sign. Head inside of the restaurant after locating it and go straight to the kitchen towards the back of the entrance.
NPC Gutbomb will be standing behind the front counter in which he can be hired to be a part of the crew or ask to duel him if need be. Regardless, stand in front of Gutbomb and select a dance of choice, and the challenge will be completed.
There is another challenge this week that can be done once finished inside Durrr Burger, which is to drive from Durrr Burger to Pizza Pit without exiting the vehicle. It may be wise to start the challenge right after dancing in the kitchen to speed the progress of the weekly challenges up. It will take a while to drive all the way from Durrr Burger towards Colossal Crops. It's definitely a journey, but just be prepared, and it should be a smooth drive.