Where to Find a Crackshot Quadcrasher in Fortnite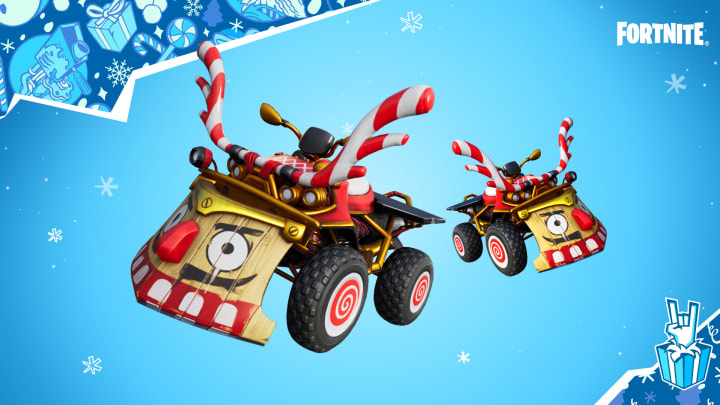 These Quadcrashers are a little more festive than your average vehicle. / Image courtesy of Epic Games
A new Winterfest challenge requires players to find a Crackshot Quadcrasher in Fortnite. Here's what you need to know.
If you've been a regular Fortnite player over this festive period then you might have already earned both of the free Winterfest cosmetics. These cosmetics, which include a new Glider and Back Bling, are earned by completing a number of Winterfest challenges over the course of the event. Even if you've managed to earn both items, however, there's still a tidy sum of XP to be earned through completing the extra challenges.
This latest challenge asks players to travel 1,000 meters on a Crackshot Quadcrasher. While the task seems simple enough, some players have had a bit of trouble finding the vehicle. Fortunately, we've detailed exactly where you can find a Crachshot Quadcrasher.
Where to Find a Crackshot Quadcrasher in Fortnite
The best place to find a Crackshot Quadcrasher is to head straight to Crackshot's Cabin. If you haven't visited this location yet, it can be found on the opposite side of the lake to Logjam Lumberyard. Two Quadcrashers can be found parked outside of the Cabin, facing east.
This is a pretty hot area so you'll want to try and land as close to the vehicles as possible to minimize your chance of getting eliminated. There'll likely be a number of other players taking on the challenge at the same time, so move quick.
If Crackshot Cabin feels like too much of a risk, four more Quadcrashers can be found at the gas station to the west of Logjam Lumberyard. This location will likely be slightly less populated, and have more vehicles to find.
Once you've gotten yourself a Crackshot Quadcrasher all you'll need to do is drive 1,000 meters. These vehicles are pretty fast so it shouldn't take you too long to complete the distance. Be careful, though. These Quadcrashers don't have much in terms of protection so you could easily find yourself taking damage from afar.
Completing this challenge will earn you 18,000 XP towards your Battle Pass.