Where to Find Eevee in Pokemon Brilliant Diamond and Shining Pearl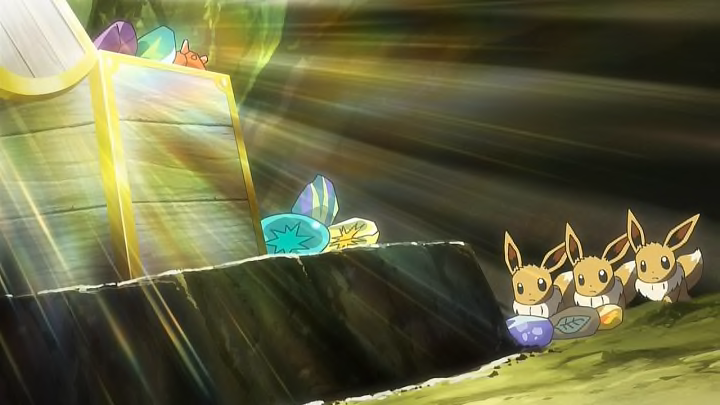 We've compiled a brief guide on where trainers can find Eevee in Pokemon Brilliant Diamond and Shining Pearl. / The Pokemon Company
We've compiled a brief guide on where trainers can find Eevee in Pokemon Brilliant Diamond and Shining Pearl.
There is only one Pokemon that rivals franchise mascot Pikachu in popularity: Eevee, the "Evolution" Pokemon! Eevee has been stealing trainers' hearts and Pikachu's limelight in the years following its debut as part of Generation I. It has since been elevated into fame and stardom with the release of the "Let's Go!" series as one of the partner Pokemon options beside Pikachu.
Trainers and longtime fans will know Eevee from its endless evolutionary possibilities. There are now eight forms this Pokemon can evolve into with the latest being Sylveon, the fairy-type "Intertwining" Pokemon.
Here's where to get Eevee in Brilliant Diamond and Shining Pearl.
Where to Find Eevee in Pokemon Brilliant Diamond and Shining Pearl
In Brilliant Diamond and Shining Pearl, trainers will receive an Eevee as a gift from Bebe in Hearthome City after obtaining the National PokeDex. Her home is right next to the Hearthome City Pokemon Center.
Bebe, herself, is a technological genius who created the Pokemon Storage System used in Generation IV with Diamond, Pearl, and their remakes. Her system surpassed Lanette's system, and thus became the dominant software used to store Pokemon.
Its worth noting that trainers do meet Bebe much earlier than they did in the original games over five years ago. In the Sinnoh region remakes, Bebe appears in Jubilife City after trainers beat two Team Galatic grunts. She has upgraded the system to be accessed anywhere and gifts the player with a few PokeBall capsules. They'll still need to visit her in Hearthome City for Eevee, however.
Pokemon Brilliant Diamond and Shining Pearl are available now for the Nintendo Switch.