Where to Find Heatran in Pokémon Brilliant Diamond and Shining Pearl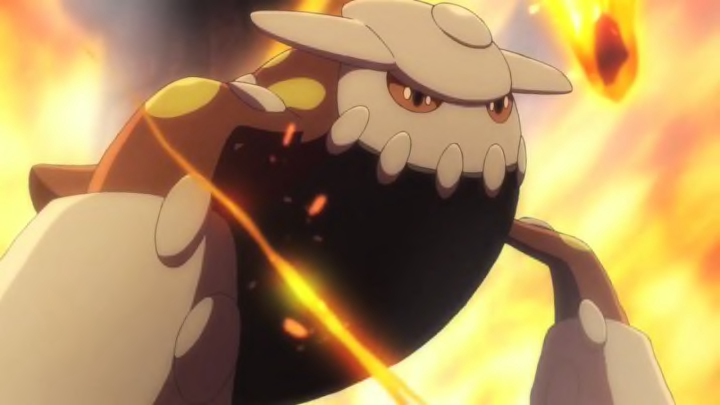 Trainers want to know where they can find the "Lava Dome" Pokemon, Heatran, in Pokemon Brilliant Diamond and Shining Pearl. / The Pokemon Company
Trainers want to know where they can find the "Lava Dome" Pokemon, Heatran, in Pokemon Brilliant Diamond and Shining Pearl.
As it turns out, the Sinnoh region has a variety of hidden legendary and secret mythical Pokemon to battle throughout the region. Among these is Heatran, a volcanic fire and steel-type that makes its home in Stark Mountain. It "cross-shaped" claws allow it to climb up walls and along ceilings, making it the ideal companion for exploring unmapped caverns.
Here's where to find Heatran in the Pokemon Sinnoh region remakes, Brilliant Diamond and Shining Pearl.
Where to Find Heatran in Pokémon BD/SP
As with all endgame legendaries, trainers will need to have completed their Regional PokeDex and defeated the entire Sinnoh League—including the Elite Four and the Champion, Cynthia. Fortunately, all that's needed to complete the PokeDex is seeing all 150 native species, so the endeavor shouldn't take long for determined trainers.
The National Dex will be rewarded the next time trainers visit Sandgem Town.
Heatran can only be encountered in the Battle Zone, which is unlockable via a short boat ride from the southern point of Snowpoint City. We've laid out the concise steps to finding this Pokemon below:
In the Battle Zone, navigate to the Fight Area.
Enter the Survival Area—northeast along Route 225–and speak with both Barry and Gym Leader Crasher Wake.
Equip a Pokemon with the moves "Rock Climb" and "Surf," and head north up Route 226. Trainers will need to use the move a couple times to navigate the area, but will eventually hit a small body of water.
Surf across the water and continue north to Route 227.
After hitting land, swap to the bicycle. Trainers will need to ride over a series of small ramps and a thin beam on the eastern side of the area.
If followed correctly, trainers who take care to read these instructions will be greeted by another named NPC: Buck. He will engage the player in a short conversation and the entrance to the inside of Stark Mountain will lay just beyond him. Make note of him, however, as Buck becomes a recurring player—and problem—inside the mountain.
As it turns out, Buck is after the Magma Stone inside Stark Mountain. Once the player helps clear the way, Buck will take off with it, causing the trainer to need to track him down back in the Survival Area. Talking with him will reveal that his swiping of the stone has caused the volanco—and, moreover, Heatran—to become upset.
Trainers will then need to make their way back to Stark Mountain using the steps listed above and place the stone back. However, it isn't just a fancy room waiting for them, but Heatran, itself! Battle the Pokemon and/or capture it to put the island at peace again.
Pokemon Brilliant Diamond and Shining Pearl are available for the Nintendo Switch.