Where to Find Pikachu in Pokemon Legends: Arceus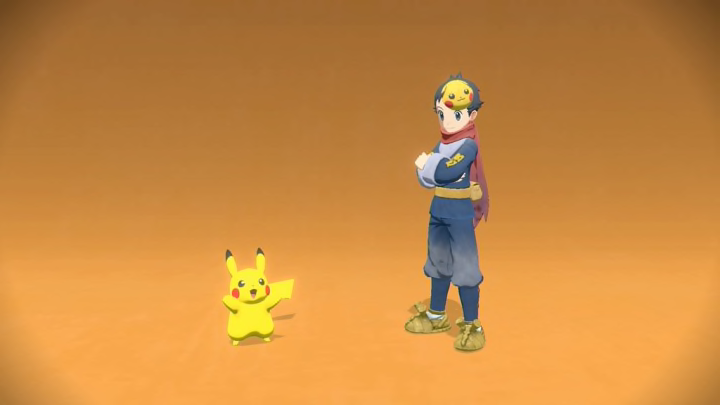 We've discovered the best places to hunt for Hisuian Pikachu in Pokemon Legends: Arceus. / Nintendo, The Pokemon Company
We've discovered the best places to hunt for Hisuian Pikachu in Pokemon Legends: Arceus.
What Pokemon game would be complete without Pikachu? This electric-type staple has been in every game within the franchise to date including spin-offs and cameos in other properties. After all, Pikachu can be quite the fearsome fighter when pitted against other Nintendo heroes and heroines. Its appearance in Pokemon Legends: Arceus is no exception with all three forms—Pikachu, Pichu, and Raichu—ready to battle.
All trainers need to do is find one.
Pokemon Legends: Arceus Pikachu Spawn Location
Hisuian trainers can find Pikachu in the following locations:
Nature's Pantry (Obsidian Fieldlands)
Golden Lowlands (Crimson Mirelands)
Once found, Pikachu can be caught and battled like any other Pokemon in the game. This, of course, means that it will flee from trainers and/or be hostile to them, accordingly.
Another way to get Pikachu on board is to find and evolve a Pichu—its pre-evolved "baby" form. This Pokemon can be found alongside Pikachu in Nature's Pantry and the Golden Lowlands with an additional spawn point in Floaro Gardens.
Pichu evolves into Pikachu when it builds a strong enough bond with its trainer and is leveled up during the day. Trainers can check their friendship with their Pokemon by speaking with Belamy in the southeastern part of Jubilife Village.
Additionally, should they want to, trainers can evolve their Pikachu into a Raichu by using a Thunder Stone.
Pokemon Legends: Arceus is currently available for the Nintendo Switch. Players who obtain the game before May 9 will be eligible to receive the Hisuian Growlithe and Zorua-themed pre-order bonuses.