Where to Find the Magma Blade in Elden Ring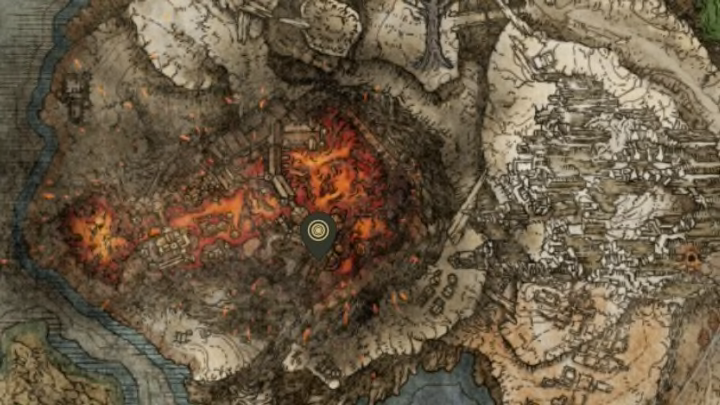 Temple of Eiglay Courtesy of Elden Ring Map /
With good potential scaling in Dexterity and Faith, the Magma Blade is an excellent weapon to add to your arsenal, especially if you're looking to add fire to the sword for some extra kick.
How and Where to Find the Magma Blade
While you can't find the weapon in any shop or specific location, you can find it by killing the Lizardmen in the Volcano Manor, specifically the ones with the molten version of the blade. To get to the Volcano manor either make your way up Mt. Gelmir by starting off at the Grace of the Academy of Raya Lucaria and making your way down into the cave via the conveyor belt. The faster way is to complete Rya's quest at Liurnia of the Lakes to find her lost necklace. Meet her again at the Lux Ruins and she will guide you toward the Volcano Manor, a home of Two-Finger hating assassins.
Once inside make your way through the manor until you come upon the Hidden Grace inside the Temple of Eiglay, then make your way into the main castle via the elevator to your right, Once inside kill the magma blade-wielding Lizardmen until they drop the magma blade.
The Magma Blade is a great weapon for someone who wants to fully embrace the pyromancy look and feel. Scaling equally well with Strength, Dexterity, and Faith, it tends to scale better with Strength and Faith after a few upgrades, with Strength and Faith scaling to C while Dexterity remains scaled at a D. It can be a bit tricky to upgrade as it uses Somber Smithing Stones which can be a bit on the rarer side.
Looking for more of a spellcaster/stealth build? Heres a guide on how to find the Reduvia.
Wanting a strength build? Heres our guide on finding the Godslayer's Greatsword