White Noise Warzone Blueprint: How to get the M4A1 Blueprint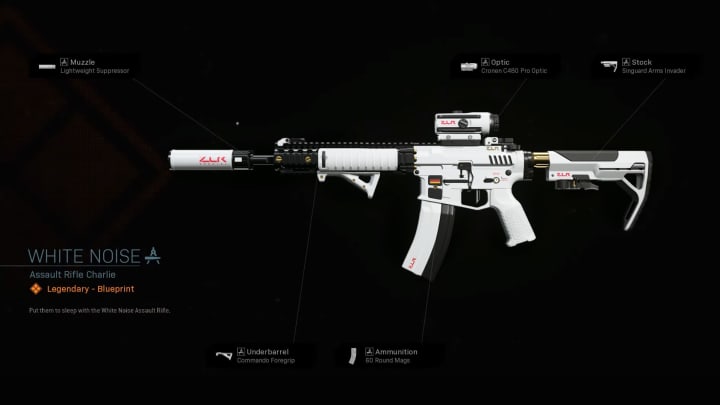 The White Noise blueprint for the M4A1 / Courtesy of Activision
The White Noise Warzone blueprint allows players to wield an attachment full M4A1 without having to unlock them. Plus, it comes with a signature skin to spruce up the weapon. The skin is almost entirely white with small red accents rounding out the weapon.
Its alias is Rumore bianco — which means White Noise in Italian — and it is a Legendary rarity blueprint for the Assault Rifle Charlie, also known as the M4A1 — a weapon almost everyone already prefers.
White Noise Warzone Blueprint: How to Unlock the M4A1 Blueprint
The weapon is purchasable in the in-game store for 1,000 COD Points as a part of the "Trophy Skulls" Store Bundle. The bundle also includes a rare spray called "Dead Inside" and a rare emblem titled "Bone Collector".
White Noise Warzone Blueprint Attachments
The White Noise blueprint has no perks enabled and instead chooses to fill out the maximum attachments of five.
Muzzle: Lightweight Suppressor
Optic: Cronen C480 Pro Optic
Stock: Singuard Arms Invader
Underbarrel: Commando Foregrip
Ammunition: 60 Round Mags
The weapon's attachments results in a significant increase in accuracy and a small increase in range. There is a large tradeoff with mobility and control, however, as those stats drop considerably as well.
To see the Kingly Splendor M4A1 blueprint, click here.