Top Games
Who is the Worst Team in Madden 21?
By Michael Grullon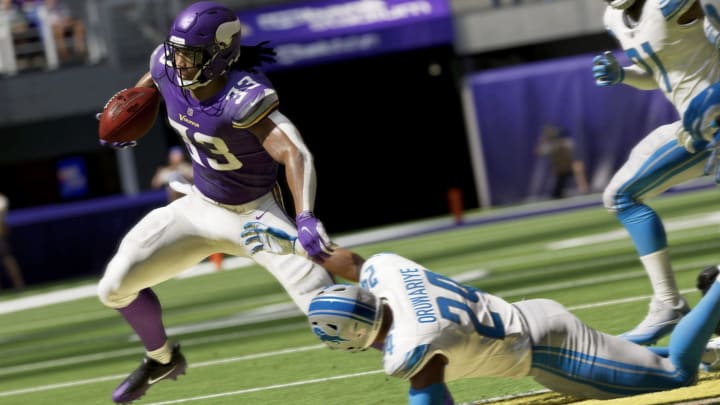 Photo Courtesy of EA SPORTS Madden 21
Whether you're looking for a challenge in a game against your friends, creating your own player to revive the franchise, or starting from the ground up in a rebuild, you may want to find the worst team in Madden 21 to do so with.
Who is the Worst Team in Madden 21?
With that in mind, we have compiled the five worst overall teams in Madden 21 to challenge your abilities in any game-mode.
5. Denver Broncos
Las Vegas Raiders v Denver Broncos / Matthew Stockman/Getty Images
Coming in as the fifth-worst is Denver, who comes with a 76 rated overall team and finished 5-11 in the regular season. With only one superstar X-factor player and 13 players above 80 overall, this is one of the weaker teams in the AFC in Madden. Additionally, plenty of large contracts on below-average players make this team tough to rebuild.
The Broncos do have some young pieces and talent, however, such as TE Noah Fant and FS Justin Simmons, as well as rookie receiver Jerry Jeudy, who has one of the best sets of potential on the roster. The future can brighten up if you decide to take the realms as a coach or replace Drew Lock at QB to lead their young offense. Otherwise, using the Broncos will be tough in online play or against your friends.
4. Philadelphia Eagles
Washington Football Team v Philadelphia Eagles / Mitchell Leff/Getty Images
The Eagles have fallen off of a cliff since their Super Bowl win in 2018, to put it nicely. Now that they've trade away QB Carson Wentz, their 75 overall in Madden may be even lower in reality.
The team is old, with not too much young talent to develop within franchise mode, so the draft will be big to help revive the roster. Their veterans are good, some of them superstars led by X-Factor Defensive Tackle Fletcher Cox, but they will ultimately decline over the next few years. If you are playing an exhibition or online, they aren't the least usable team, but it will take an extended rebuild to bring the Eagles to their glory days in 2018, and Nick Foles isn't there to save them.
3. New York Jets
Sorry Jets fans, but their place on this list is deserved both in Madden and real life, and it has been for over ten years. They have probably hovered around a 73 overall in Madden throughout that entire spell, and this year is no different.
New York Jets v New England Patriots / Al Pereira/Getty Images
They've only got six players on their roster over 80 rated. Their offense is in shambles. They aren't a very popular free agency destination compared to their rival New York Giants. If you want to use them in head to head online, at least you'll have the legend Frank Gore on your team. Other than that, there isn't much more to this roster. A Franchise save with the Jets may have to last a few seasons before you can make any impact in the playoffs, let alone their first Super Bowl appearance since 1969.
2. Cincinnati Bengals
Cincinnati Bengals v Washington Football Team / Patrick McDermott/Getty Images
While the Bengals are only a 72 overall in Madden this year, they probably have the most potential and usability of any team on this list. Rookie Joe Burrow leads a young roster full of hungry players, such as superstar Joe Mixon, rookie Tee Higgins, and Free Safety Jessie Bates III.
The Bengals are probably one of the most favored teams to rebuild in Madden 21 because of this young core, but outside of a poor offensive line, the team isn't horrible. They're not good, but they can make some noise down the line as they gain experience and skills. If you want to join a growing team as a player or coach, Cincinnati may be one of the best places to do so.
1. Jacksonville Jaguars
Chicago Bears v Jacksonville Jaguars / James Gilbert/Getty Images
Finally, earning the label as the worst team in Madden 21, the Jacksonville Jaguars. With a 70 overall, there are almost zero positives to this roster.
The Jags only won one game last season, a five game decrease compared to the 2019 season where some of the fanbase saw glimmers of potential. but all of those glimmers were overshadowed by poor play on both sides of the field. With only seven players rated above 80 overall, none above 88 overall, it will take the best, most patient Madden players to find success with this team in Head to Head or in Franchise mode, and a legendary player to become the face of their franchise and bring them glory.