Call of Duty
WhosImmortal Breaks Down One of His Favorite SMG Loadouts in Warzone Season 5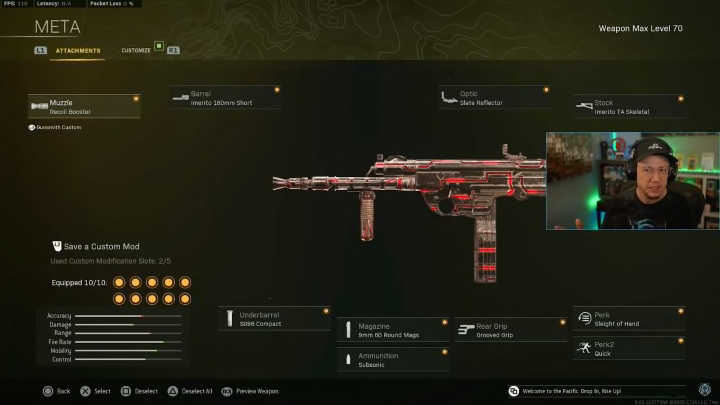 Image courtesy of WhosImmortal, Activision
In a recently uploaded video on YouTube, Call of Duty enthusiast WhosImmortal provides a detailed list that ranks all of the SMG options available in Call of Duty: Warzone Season 5, one of which happens to be amongst his favorite weapons to use.
Warzone fans know all too well about the speedy killer Armaguerra 43. This weapon has been highly sought after for its ability to grant players a ridiculous amount of speed on the battlefield. It has also been noted as one of the top weapon options for players in our Season Weapon 5 Tier List. This SMG's capacity to give players the competitive edge needed to win is one of the many reasons why it stands out from the rest.
WhosImmortal gives audiences a full breakdown of the most optimal loadout build for the Armaguerra 43 and why it stands out to him as one of his go-to weapons in his most recent Youtube video titled, "WARZONE: Every META SMG LOADOUT Ranked! (WARZONE Best Setups)."
WhosImmortal's Armaguerra 43 Loadout Warzone Season 5
WhosImmortal highlights the Armaguerra's continued ability to be a top choice despite recent nerfs as he states," this build was slightly nerfed a few updates back, but it's just still so so consistent and so fun to use as well." WhosImmortal continues to shower this SMG with love as he proclaims, " it's probably my second favorite, potentially my favorite SMG in the game right now."
For players who want to try out WhosImmortal's Armaguerra 43 build, his class setup is below:
Muzzle: Recoil Booster
Barrel: Imerito 180mm Short
Optic: Slate Reflector
Stock: Imerito TA Skeletal
Underbarrel: SG98 Compact
Magazine: 9mm 60 Round Mags
Ammunition: Subsonic
Rear Grip: Grooved Grip
Perk: Sleight of Hand
Perk 2: Quick