WhosImmortal Reveals Warzone LMG That's 'Outgunning Everything'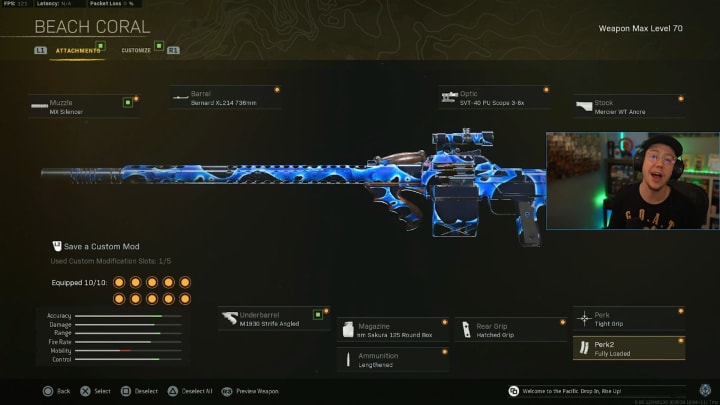 "It fries everyone and everything." / Image courtesy of WhosImmortal, Activision
Content creator WhosImmortal recently posted a video on his YouTube channel revealing what he thinks is a new contender to be the top long-range option to use in Call of Duty: Warzone Season 4 Reloaded.
As many in the community might recall, it hasn't been long since the UGM-8 first made its Warzone debut at the start of the season, and quickly received a nerf. Since then, however, it appears a new build has allowed it to regain its dominance. In our latest Season 4 Reloaded Weapon Tier List, we even listed the UGM-8 as the top-ranked LMG to use in the current meta.
Breaking it all down in a recent YouTube video eloquently titled, "The OVERPOWERED UGM-8 LOADOUT You NEED To Use!" loadout mastermind WhosImmortal showcased how the UGM-8 is perhaps the weapon that all players should be giving a try in Call of Duty: Warzone Season 4 Reloaded.
Best UGM-8 Weapon Loadout Warzone Season 4 Reloaded
"We've got plenty of ammo here with our fully-auto barrel, our MX silencer and the 125-round box," WhosImmortal said in the video. "and the stats speak for themselves. We're outgunning everything with this thing. It also helps that this magazine reduces the recoil a lot, increases the fire rate [and] makes it more aggressive than ever. The thing is just flat out nasty."
For those looking to use WhosImmortal's UGM-8 build, here is his class setup:
Muzzle: MX Silencer
Barrel: Bernard XL214 736mm
Underbarrel: M1930 Strife Angled
Magazine: 6.5mm Sakura 125 Round Box
Ammunition: Lengthened
Optic: SVT-40 PU Scope 3-6X
Rear Grip: Hatched Grip
Stock: Mercier WT Ancre
Perk 1: Tight Grip
Perk 2: Fully Loaded
---
For more on Call of Duty, be sure to check out our top five lists:
Additionally, feel free to check out our timeline on the history of the Call of Duty franchise!