Will FIFA 23 Have Cross-Progression?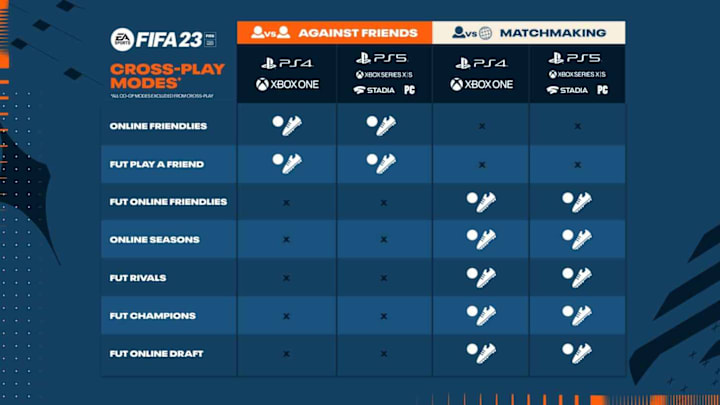 Image Courtesy of EA
With the arrival of FIFA 23 pre-season right around the corner, fans are curious if the new title will feature cross-progression capabilities.
Cross-progression allows players to continue their progress from a previous title or season into the next generation of a game. In this context, FIFA 22 players would be able to continue in FIFA 23 with all the same perks, rewards, and experience they had earned in the earlier title.
It's worth noting that EA has confirmed on their website that FIFA 23 will be cross-play. Not only will players be able to compete with others on different platforms in online matches, the FUT Transfer market will also function as cross-platform as well. This means that "if you were to list a [FUT] Item on Stadia, a PlayStation 4 player will be able to see and interact with it."
Will FIFA 23 Have Cross-Progression?
Currently, there is no mention of cross-progression capabilities in any official FIFA 23 marketing communications. Therefore it's unlikely that it will be available for FIFA 23. Of course, FIFA 23 data can be transferred from one generation of a platform to another.
It makes sense that cross-progression would be absent from FIFA 23. Besides the obvious fact that neither FIFA 21 nor 22 featured cross-progression. Each iteration of FIFA offers gamers the chance to start fresh, applying the lessons they have learned during the previous year along the way. After all, who would want to buy a new game if everyone who had already bought it was automatically better?