Will the Overwatch 2 Beta be on Console?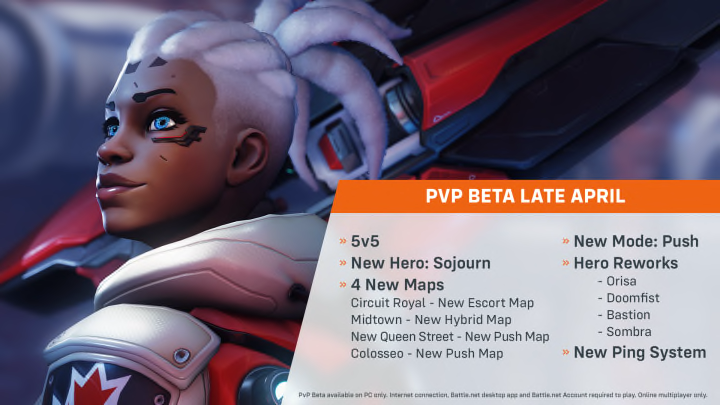 PVP Beta infographic, with the mention of it being PC only at the very bottom / Blizzard Entertainment
It's fair to say that hype for the Overwatch 2 beta is palpable. With the hero shooter making a grand return with enhanced PVP, new characters, and an actual story mode this time around, fans hope the game is a success.
Blizzard announced on Twitter the closed beta would begin at the end of April, with the new hero Sojourn making an appearance along with five new maps. Excited, and observant, console players who would storm the site would notice, under the bright infographic of the new features, a harrowing detail: the PVP beta would only be available on PC.
Outrage was swift and immediate, with a post on the console dedicated subreddit r/OWconsole bearing the brunt of the messages, as fans expressed their anger at being snubbed for their chance to play a game they had been looking forward to for several years.
Will the Overwatch 2 Beta be on Console?
Overall, the anger surrounding the issue is understandable, and is certainly a letdown for the dedicated fans. Overwatch 2 has seen its fair share of delays and pushbacks.
So, to suddenly get initially cut off from a sequel to one of the biggest PvP shooters of all time is sure to feel like a gut punch.
It's possible Blizzard runs a separate console beta in the future, but for now it remains PC exclusive. For those looking for how to sign up for the beta, check out our article here.