Win an all-expense trip to the StarLadder Berlin Major with KFC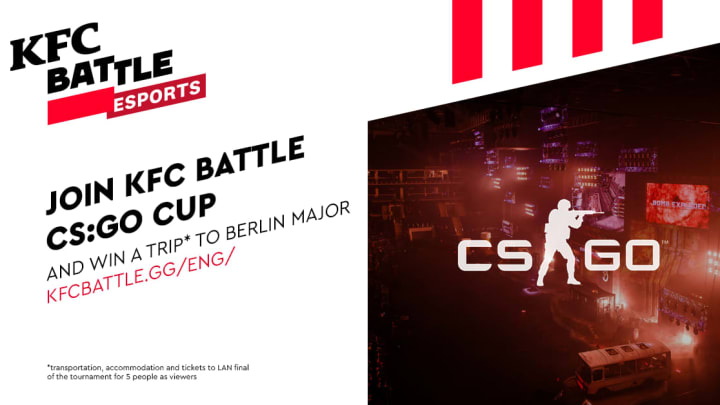 KFC is hosting its second KFC Battle esports tournament but this time is adding Counter-Strike: Global Offensive to the mix! Last year was KFC's seventh KFC BATTLE, but the first to involve esports. Last year's event attracted 4,415 esports fans from Russia, Ukraine, Kazakhstan, and Belarus, and now, for the first time in the project's history, Central and Eastern European players will have a chance to compete in an amateur tournament while fighting for a worthy prize. The winning team will win a paid trip to the StarLadder Berlin Major 2019!
Would you like to compete and win an all-expense paid trip to StarLadder Berlin Major 2019? First you need to qualify!
The qualifying process for the KFC BATTLE: Esports is similar to many tournaments in the CS:GO scene. CEE teams will go through both open and closed qualifiers, all through FACEIT to determine two winning teams. These teams will then compete in the concluding grand finale in Moscow on July 13–14.
The Open qualifiers will start on May 11 and be played every consecutive weekend until June 2. The final Closed qualifiers for the remaining teams will be from June 7–9.
The tournament is a perfect opportunity for fans of both games to show their worth and skill to the eyes of the world. While regular sports have decades of infrastructure and systems in place to find new and rising talent, esports is still growing in that aspect. These types of tournaments give young stars a chance to show off their skills while competing for a chance to witness the best in their esport.
The championship is open to any amateur team consisting of players aged 14 to 30, and participation in the championship is free. If you're interested in registration, follow this link. If you are a CS:GO professional, you will not be allowed to participate in the tournament.
This article was brought to you by a commercial partnership between DBLTAP and ESForce.