Top Games
World of Warcraft Corrupted Blood: Explained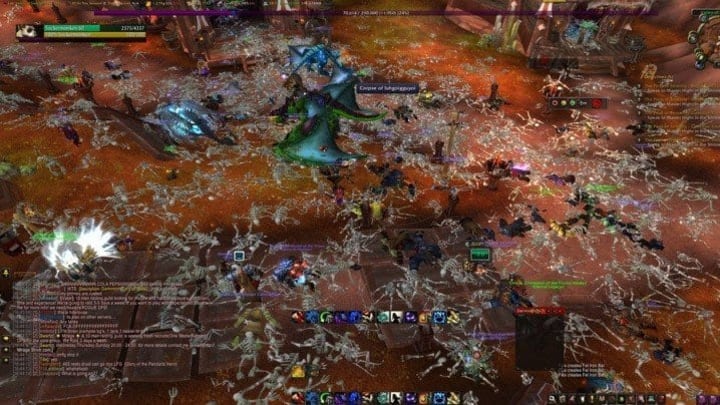 A gruesome sight for WoW standards — carpets of skeletons of recently dead players, killed by the unstoppable force of Corrupted Blood. / Photo courtesy of Blizzard
World of Warcraft Corrupted Blood, also known as the Corrupted Blood Incident, was an in-game plague that greatly affected gameplay by those afflicted with the ailment.
World of Warcraft Corrupted Blood: Explained
With Patch 1.7.0, released on September 13, 2005, came the opening of Zul'Gurub, WoW's first 20-player raid. Previous raid tiers, such as with Molten Core and Blackwing Lair, had been 40-player raids.
One boss in Zul'Gurub, Hakkar the Soulflayer, would instantly give players a debuff called "Corrupted Blood," inflicting 250-300 damage (player's average health at the time was around 5000) every few seconds to the afflicted player. To make the fight a massive healer check, the Corrupted Blood debuff would also be passed on to players standing in close proximity to the player infected with the debuff.
Corrupted Blood was fully intended to stay within the confines of Zul'Gurub, but players, as they always do, found a way to get the debuff into greater Azeroth, outside the confines of Zul'Gurub.
Likely not intended at first, Hunters who would dismiss their pets while their pet was afflicted with Corrupted Blood would retain the debuff long after they were out of Zul'Gurub. All a Hunter would have to do is get Hakkar to infect their pet, immediately dismiss it, call their pet in a major city, and let science do the rest.
Corrupted Blood would spread across NPCs, players, other pets, you name it. Interestingly, The Lancet published a scholarly article titled "The untapped potential of virtual game worlds to shed light on real world epidemics" back in September of 2007, making the article more timely than it has ever been.