World Series of Warzone Captain's Cup Teams Announced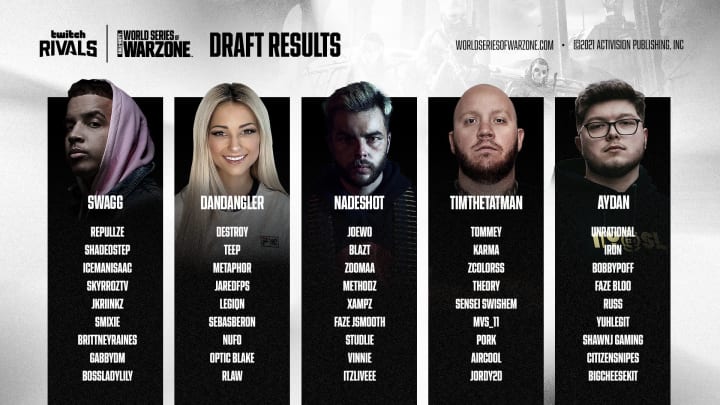 The five teams, each consisting of 10 sets of NA trios, have been locked in for the World Series of Warzone's Captain's Cup. / Photo courtesy of Activision
The World Series of Warzone teams for the Captain's Cup have been officially drafted.
To spice up the semi-invitational World Series of Warzone's NA Trios tournament taking place today, FaZe Swagg, DanDangler, Nadeshot, TimTheTatman and Aydan each took their respective turns on the Twitch Rivals clock forming their 10-trio, 30-player teams for the Captain's Cup. Here are the results of the June 22 9-round snake draft.
World Series of Warzone Captain's Cup Teams Announced
Team FaZe Swagg
FaZe Swagg, FaZe Booya, Biffle
Repullze, Lucky Chamu, SuperEvan
ShadedStep, ReidBoyy, Bonq
IcemanIsaac, Opmarked, Devious
SkyrrozTV, NobusSpartan, BlingCJay
JKriiNkz, GodeyGuyy, Sporttm
Smixie, EyeQew, Arrayyz
BrittneyRaines, PicnickBasket, OakleyBoiii
GabbyDM, ZJelly, SkullFace49
BossLadyLily, Scriptehh, Patience
Team TheDanDangler
TheDanDangler, Wagnificent, DougIsRaw
Destroy, ZLaner, ClutchBelk
Teep, Cloakzy, Crimsix
Metaphor, Intechs, zSmit
JaredFPS, Rallied, exzachtt
LEGIQN, Stukawaki, QueenShadows
Sebasberon, MRDaft, Finessen
NuFo, Speros, KingProdigy
OpTic Blake, OpTic Jorge, Holly
RLaw, Ollie, Powfu
Team Nadeshot
Nadeshot, Slasher, Kenny
JoeWo, Symfuhny, MuTeX
Blazt, Tfue, Pieman
Zoomaa, Clayster, Asim
Methodz, Slacked, Ricky
Xampz, Ebatez, SureAngxl
FaZe JSmooth, Redman_Lyons, Spreezyy_
Studlie, NateHades, TrickyRick
Vinnie, TaylorFritz, Zed
ItzLiveee, LMBO238, SlimSlay86
Team TimTheTatman
TimTheTatman, Sirciz, Frozone
Tommey, Newbz, Almond
Karma, Scump, FormaL
zColorss, Ahtract, TheDezmond
Theory, Aqua, Tiny
Sensei Swishem, Bartonologist, Yata
MVS_11, Sage, Royalize
Pork, Niicdinfinite, Kalei
Aircool, BaySoldier, AvonteMaddox
Jordy2D, ZeusYaf, SpideyCOD
Team Aydan
Aydan, HusKerrs, Rated
Unrational, Scummn, Nickool
Iron, Bbreadman, Yeet
BobbyPoff, Mayappo, Ottereyes
FaZe Bloo, Flxnked, Fukluvey
Russ, SupAustyn, Jerky26
YuhLegit, KunjTV, Drifts
ShawnJ Gaming, DJMas23, GunMW
CitizenSnipes, Drakota, SteelCurtain
BigCheeseKit, TheMurdaa, SnipingCookie
What is the World Series of Warzone Captain's Cup?
Although all 50 of the trio squads competing today will be focusing on taking their own highest possible share of the $200,000 prize pool money at stake, the World Series of Warzone has added a twist to shake things up—a bonus $100,000 prize pool up for grabs in the Captain's Cup where five of the biggest names in the Call of Duty community draft among the competing trios to "compete" for their team.
The World Series of Warzone's first tournament, NA Trios, will take place Wednesday, June 23, at 5 p.m. ET. / Photo courtesy of Activision
For more on the World Series of Warzone, feel free to check out our breakdown of its format and prize pool.