WWE Supercard Chucky: How to Get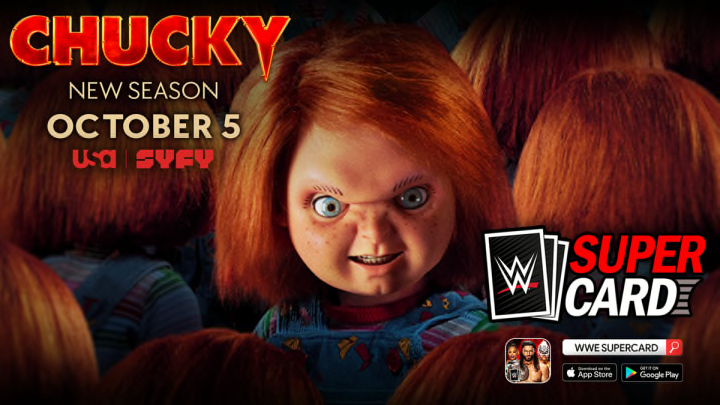 "Wanna play?" / Cat Daddy Games
Just in time for spooky season, as well as the second season of Chucky on USA Network and SyFy, Cat Daddy Games has revealed that Chucky is entering the ring for a limited time in WWE Supercard.
For those wondering how to unlock the horror icon for their battle card collections, here's a breakdown of how to get Chucky in WWE Supercard.
WWE Supercard Chucky: How to Get
Per Cat Daddy Games, Chucky's special Arcane-tier card will first be offered through a new Quest line that challenges players to complete objectives across the game. Players in Arcane tier or above who complete this Quest will be rewarded with the guaranteed Chucky card. The Quest will be active Oct. 5 through Oct. 9, 2022.
For players who miss out on the Quest or want to Pro or Fortify Chucky, there will be more chances to obtain the card until Oct. 31. Chucky will make multiple appearances in RewardMania and will also appear in other rewards and packs at select times.
Debuting in-game as well, however, is the Watch Party feature for the Extreme Rules premium live event. Watch Party is said to be a new, limited-time feature that allows players to flex their skills as fantasy bookers and chat with other players during select WWE events.
While a Watch Party is active, players can try to predict match results using their own cards. The more correct predictions they make and the better the cards they use, the better their chances of receiving rewards.