Xbox Games Pass February 2022 Mid Update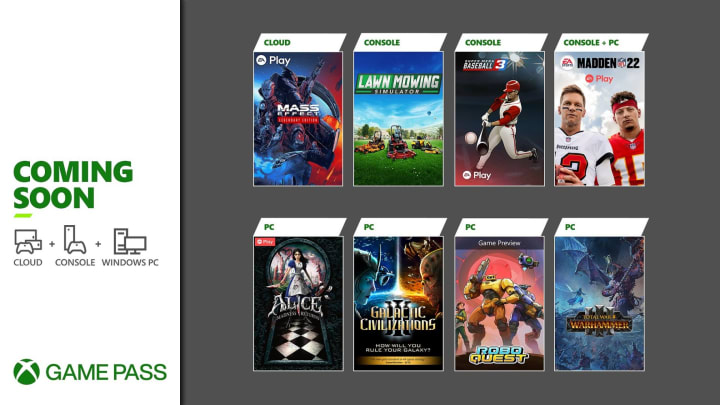 Photo by Microsoft
Xbox Game Pass has some exciting new games coming soon. Microsoft has announced some new games and perks for mid-February.
Here's a mid-February update on the games coming to Xbox Game Pass.
Xbox Games Pass February 2022 Mid Update
1.

Mass Effect Legendary Edition - Now

Mass Effect Legendary Edition is available through Xbox Cloud with EA Play. The game features over 40 DLC from Mass Effect, Mass Effect 2 and Mass Effect 3.
2.

Lawn Mowing Simulator - February 17

Enjoy mowing through the Great British countryside on Xbox Series X and Xbox Series S. Lawn Mowing Simulator will also come soon to Xbox One players.
3.

Madden NFL 22 - February 17

Madden NFL 22 is availble through EA Pass and players can claim Ultimate Team Packs and save 10% on EA digital content.
4.

Super Mega Baseball 3 - February 24

This baseball simulator features Online Leagues, Practice modes, on-field additions and improved graphics. Super Mega Baseball 3 is available for Xbox players through EA Play.

In addition to these new games Xbox Game Pass members have great perks with their membership.
Members can enjoy two months of ad-free Hulu. This offer is only valid for new and eligible returning Hulu subscribers.
Xbox Game Pass members can also get bundles and packs like the Halo Infinite Pass Tense BR75 Battle Rifle Bundle, Apex Legends Lucky Loot Weapon Charm and Madden NFL 22 Supercharge Pack.
Six new games have been added to Xbox Touch Controls for PC, and mobile for Andriod and Apple devices. The added games are Dreamscaper, Firewatch, Lake, The Pedestrian, Yakuza 3 Remastered and Yakuza 4 Remastered