Xbox Games With Gold February 2022 Free Games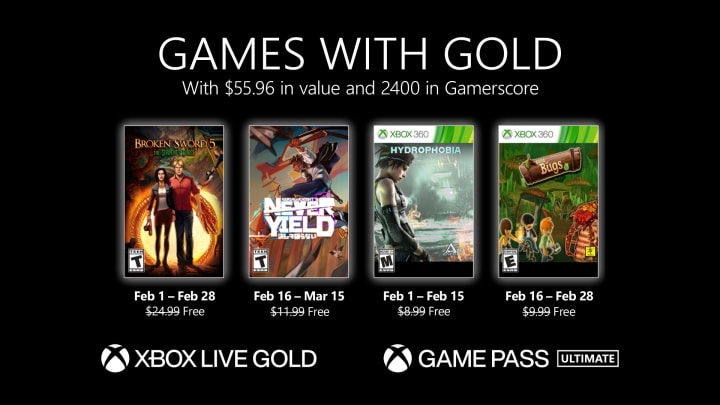 Photo courtesy of Microsoft
Microsoft has announced the new games that will be included with the Xbox Games with Gold membership for the month of February 2022. The free games that will be coming out in February are Broken Sword 5: The Serpent's Curse, Aerial_Knight's Never Yield, Hydrophobia, and Band of Bugs.
An Xbox Games with Gold membership starts at $9.99 a month and allows players to play free games or purchase different games at a discounted price. For the month of January, Games with Gold members have been able to play Neuro Voider, Aground, Radiant Silvergun, and Space Invaders: Infinity Gene.
Xbox Games With Gold February 2022 Free Games
Detailed below are the descriptions of each game that will be free for Xbox Game with Gold members in February.
1.

Broken Sword 5: The Serpent's Curse

The Serpent's Curse is Broken Sword's fifth game. The point-and-click adventure game takes players through religious history and contemporary art conspiracies. Players can play as American George Stobbart and French journalist Nico Collard in search of a stolen painting and a murderous conspiracy.
2.

Aerial_Knight's Never Yield

Aerial_Knight's Never Yield is a 3D runner game that tell the story of Wally who has uncovered evidence that can change his city forever. Players must survive different action-filled levels in order to uncover the truth. The game features a unique Tokyo-style setting of Detroit.
3.

Hydrophobia

Hydrophobia is a survival-adventure game where players must take back the city that has been controlled by terrorists. The heroine Kate must go through her haunting childhood and use her skills in order to save her city.
4.

Band of Bugs

Band of Bugs is a turn-based tactics video game developed by NinjaBee. Players must defend their kingdom from attack using a group of bug warriors and a player's Avatar. The game includes a level editor as well as a leaderboard.

Each month, Xbox Games with Gold will release another batch of games that will be free-to-play for members. Ultimate Game Pass members will also be able to play these games for free.