Xbox Games With Gold for June 2022 Announced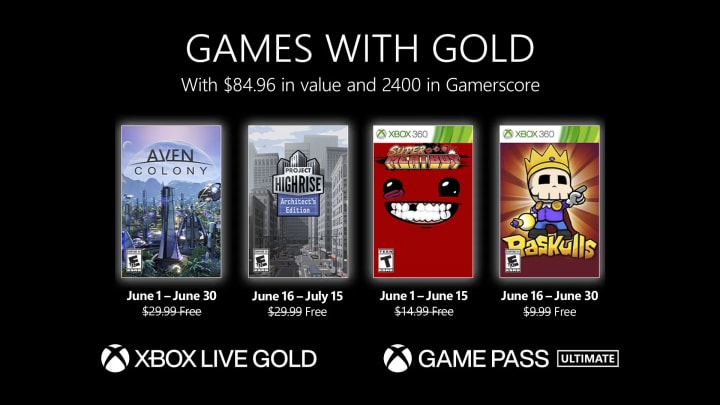 Photo courtesy of Xbox Wire
Xbox has announced the games that will be free for June 2022 with Xbox Gold. Four games previously worth almost $85, are now for free.
Xbox Games With Gold June 2022 Listed
Aven Colony
Image Courtesy of Team17
Starting off with nothing, your goal is to build and develop the Aven Colony in the new world of Aven Prime. Grow crops, create cities and explore many different biomes across the planet, all while avoiding the alien lifeforms. Battle several challenges as you strive to create a successful civilization, but be prepared for winter which freezes the entire planet. Previously $29.99, Aven Colony is now free until the end of the month.
Project Highrise: Architect's Edition
Image Courtesy of Xbox
The city is yours in Project Highrise. You are the city's new architect and it is your job to create new skyscrapers. Each building is unique with different companies and workers on the inside. Create buildings that will draw in businesses, tourists, and residents alike. Previously $29.99, Project Highrise: Architect's Edition will be free from June 16 until July 15
Super Meat Boy
Photo Courtesy of Steam
Super Meat Boy is a challenging platforming game that follows the protagonist, Meat Boy. Meat Boy is tasked with rescuing his girlfriend, Bandage Girl, all while fighting Dr. Fetus, who is a fetus in a jar dressed in a tux. The Xbox 360 game was previously $14.99 but is now free until June 15.
Raskulls
Photo Courtesy of Steam
In another Xbox 360 game, Raskulls follows three characters, the King, Bonesaw and Dragon in a platforming adventure. Explore three chapters and over 60 levels in the Raskull world and fight the alien species the Pirats who have invaded your planet. Previously $9.99, Raskulls will be free from June 16 through June 30.