Xbox Games with Gold Line-Up February 2023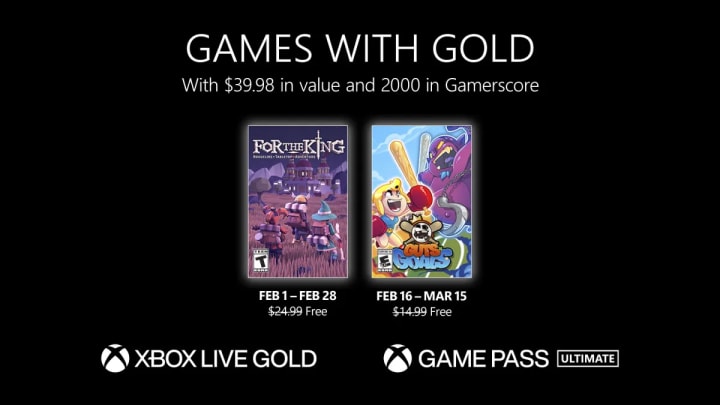 Microsoft
Xbox has revealed its Games with Gold line-up for February 2023, adding two games for players to add to their library over the next month.
Each month, Xbox Live Gold subscribers have an added incentive to stay members of the service. Games with Gold provides players with free games to download and keep in their libraries. Xbox Game Pass Ultimate members also receive the same benefits alongside access to hundreds of games.
For February, players can download free games worth a total of $39.98 in value and 2000 Gamerscore.
Xbox Games With Gold Line-Up February 2023 Revealed
Xbox Live Gold and Xbox Game Pass Ultimate subscribers can download the following games for free this February:
For the King ($24.99 ERP): Available February 1 to 28
Guts N Goals ($14.99 ERP): Available February 16 to March 15
In For the King, players can tackle single-player,  local, or online coop to battle in fast turn-based combat. Survive cunning enemies, hidden traps, and wicked weather as you fight to solve the mystery of the king's murder and restore order to the realm.  
Guts N Goals is an arcade-style soccer game where you get to beat up your friends as you try to score. Choose from over 30 heroes with character skills in various challenging stadiums.