Xbox Series X 'Mini Fridge' Preorder Date and Price Announced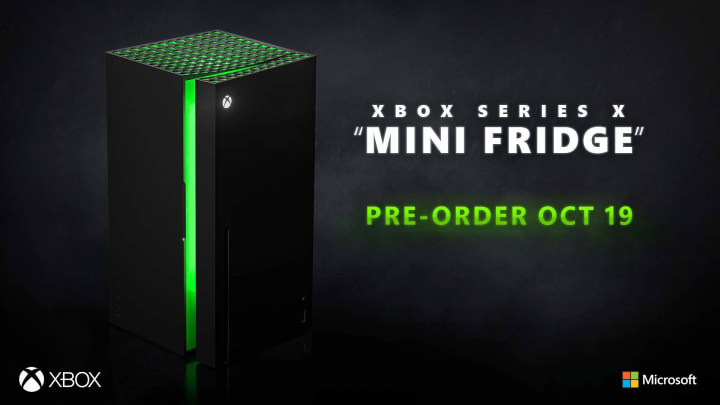 The Xbox Series X "Mini Fridge" will be available for preorder on Oct. 19, 2021. / Photo courtesy of Microsoft
The Xbox Series X "Mini Fridge" will be available for preorder on Oct. 19, 2021, for $99.99 USD, Microsoft announced Friday.
After initially starting out in 2020 as a meme in which Microsoft's freshly-revealed vertical design of their next-gen gaming console was called out for looking like a refrigerator, it appears the Xbox team is ready to turn that playful pain into profit as the Xbox Series X "Mini Fridge" is officially set to go on presale this month.
Xbox Series X 'Mini Fridge' Preorder Date and Price Announced
The idea for Microsoft to sell real Xbox Series X mini fridges began back in April when Xbox Games marketing general manager Aaron Greenberg promised fans the units would enter production if they helped Xbox win a Twitter Marketing bracket for the best Twitter marketing campaign.
During E3 2021, Microsoft then revealed the design of the Xbox Series X "Mini Fridge.
As stated in a Xbox Wire article, Microsoft has now partnered up with Ukonic! to turn gamers' "Xbox and Chill" dreams into a not-so-distant reality.
The Xbox Series X "Mini Fridge" will reportedly include LEDs and matte-black surface-features made to resemble the actual gaming console. Inside, it is said to be able to hold up to 10 cans of drinks and have two shelves in the door for snacks. The front of the mini fridge will also include a USB port for charging devices and comes with a DC power adapter to allow it to work on the go.
After preorders for the mini fridge go live next week, exclusively at Target in the United States, the units will arrive globally in December 2021.
In 2022, Microsoft is also planning to expand regional availability for the mini fridge beyond the U.S., Canada, France, Germany, Italy, Ireland, Spain, Netherlands and Poland.