League of Legends
Zenith Games Jayce Skin Splash Art, Price, Release Date, How to Get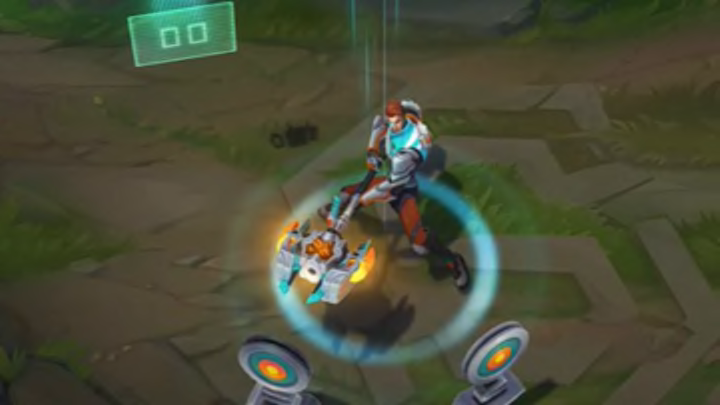 Zenith Games Jayce In-Game / Courtesy of Riot Games
The Zenith Games Jayce skin is coming to League of Legends.
Skins are the best way to customize a champion's appearance in League of Legends, allowing them to change the colors and cosmetics of their favorite characters on the battlefield, as well as get a glimpse into the lore and alternate lore of League of Legends. Zenith Games Jayce is the newest skin coming for the brilliant inventor.
Zenith Games Jayce is a part of the new Zenith Games skin line. A futuristic, sports-themed set of skins arriving for Blitzcrank and Lee Sin, alongside the new King Viego skin as well.
Here's everything you need to know about Zenith Games Jayce.
Zenith Games Jayce Skin Splash Art
The splash art for Zenith Games Jayce has not been released yet, however the SkinSpotlights YouTube Channel has released a pre-release skin spotlight showcase, allowing players to see what the new skin looks like in-game, as well as the new animations.
Zenith Games Jayce Skin Price
Zenith Games Jayce is an Epic skin meaning that it will likely be sold for 1,350 RP.
Zenith Games Jayce Skin Release Date
Zenith Games Jayce, alongside the other Zenith Games skins, is slated to arrive in League of Legends Patch 12.17. That patch is expected to hit live servers on Sept. 8.
How to Get Zenith Games Jayce in League of Legends
Once the skin hits live servers, players will be able to purchase it in the store for RP. Additionally, players can try their luck through Hextech Chests, skin orbs and more in the Loot tab. Those latter methods aren't guaranteed to net players Zenith Games Jayce.