100 Thieves, Barstool Sports & Dude Perfect DLC Coming to PGA Tour 2K23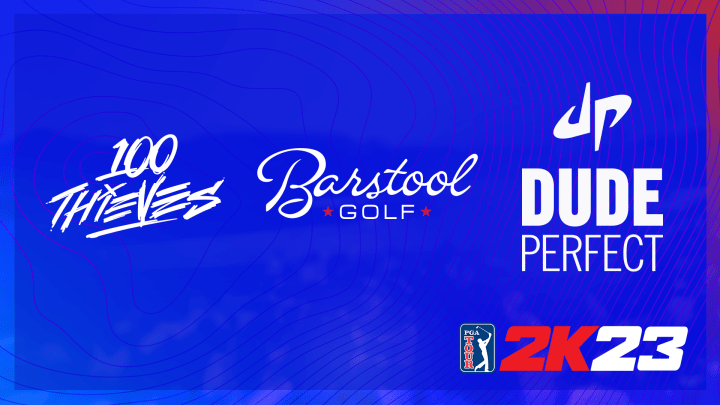 PGA Tour 2K23 is set to release worldwide for PlayStation 4, PS5, Xbox One, Xbox Series X|S and PC (via Steam) on Oct. 14, 2022. / 2K
Free DLC content in collaboration with 100 Thieves, Barstool Sports, and Dude Perfect will be coming to PGA Tour 2K23 for all players post-launch, 2K announced Wednesday.
For fans of the video game culture, entertainment and sports lifestyle media brands, as well as virtual golf, here's a breakdown of the newly announced PGA Tour 2K23 post-launch bonus content.
Kicking off the festivities first will be 2Ks collab with Dude Perfect, which will see branded hats, a polo and a hoodie designed by the trick-shotting team made available as in-game MyPlayer apparel later this month.
Additionally, Dude Perfect is said to be releasing a new video soon featuring PGA Tour pro Collin Morikawa to determine which of the Dudes will be integrated in-game as a post-launch, playable PGA Tour 2K23 character in 2023.
This fall, in-game apparel from the premium lifestyle brand and gaming organization 100 Thieves will also be coming to PGA Tour 2K23.
Following the apparel drop, 100 Thieves founder and CEO Matthew "Nadeshot" Haag, will make his debut in PGA Tour 2K23 as a playable character. Nadeshot is said to have previously made his mark on the franchise with a Course Designer collaboration called "Thieves Landing."
Finally, digital sports, entertainment and lifestyle multimedia brand Barstool Sports will be making its debut on the virtual course in early 2023, when branded merchandise and playable personalities from its popular golf podcast, "Fore Play," will be featured in PGA Tour 2K23. Barstool Sports is said to have already built strong connections with the PGA Tour 2K community, notably previously hosting online tournaments with the PGA Tour 2K21 Barstool Golf Society. 
Earlier this month, 2K announced that Golden State Warriors superstar guard Stephen Curry will also be a playable golfer in PGA Tour 2K23.
Sports icon Michael Jordan will also be playable at launch for those who pre-order the PGA Tour 2K23 Standard Edition, as well as purchase the Deluxe Edition or Tiger Woods Edition.
---
PGA Tour 2K23 is set to release worldwide for PlayStation 4, PS5, Xbox One, Xbox Series X|S and PC (via Steam) on Oct. 14, 2022. Those who pre-order the Deluxe Edition or Tiger Woods Edition will have early access to the game starting on Oct. 11.