100 Thieves Valorant Announces Rebuilt Roster Ahead of Stage 2: Challengers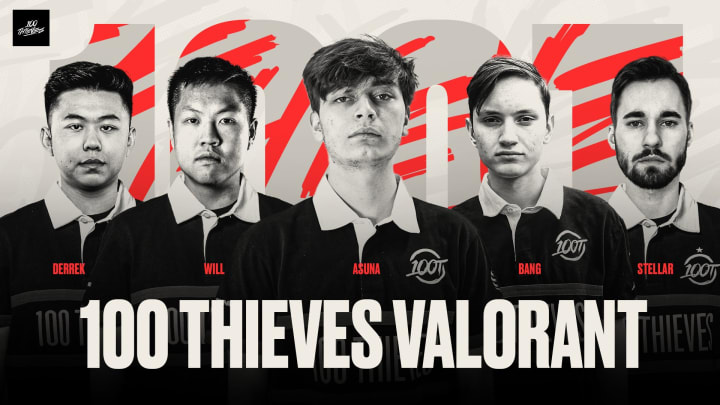 Sean "bang" Bezerra, Derrek Ha, William "Will" Cheng and Brenden "stellar" McGrath have officially joined 100 Thieves Valorant. / Image courtesy of 100 Thieves
100 Thieves has officially announced its hand-picked Valorant roster ahead of the start of 2022 Valorant Champions Tour (VCT) Stage 2: Challengers action in North America.
Less than a week removed from announcing the transition of founding 100T Valorant member Spencer "Hiko" Martin to a full-time content creation role, the North American organization appears to have its full five locked in for the regional open qualifiers coming up next month.
As reported in recent weeks by Dot Esports, 100 Thieves' new Valorant roster will indeed feature the return of Peter "Asuna" Mazuryk, coupled with the additions of Derrek Ha, William "Will" Cheng, Brenden "stellar" McGrath and the previously loaned Sean "bang" Bezerra. For now, Ethan Arnold has moved to the bench.
The announcement marks the first moves made by the newly assembled 100 Thieves Valorant brain trust of general manager Daniel "ddk" Kapadia and head coach Sean Gares.
According to the duo in the 100 Thieves announcement video, the moves were made with three key principles in mind: hunger, defined roles and culture.
"You want hungry players, and we wanted to make sure that every single player on the team had that glint in their eye," said ddk. "That they were eyeing up that trophy and that they are willing to, essentially, do anything to achieve it."
Secondarily, ddk emphasized that the new roster needed to make sense from a roles point of view, noting that "role overlap is something that absolutely murders so many teams and creates a lot of issues, so we wanted to make sure that the team was starting off from, structurally, a sound position."
With that sound foundation for roles in place, ddk added that it would best put their players in a position to succeed, as well as make it "way less destabilizing" should the team need to make any roster changes down the line.
Lastly, the two detailed the importance of establishing a coachable, collaborative culture.
"What we're trying to achieve here is having five players that truly enjoy playing with each other on a high level every single day," Gares said, "day in and day out, even outside of practice.
"There's no big egos that break communication or make players feel shut down. We're always going to stay ahead of that."
Gares went on to explain that during the rebuild process, Asuna communicated that he specifically wanted to shift to a flex role and that bang wanted to be a Controller player.
Ddk then added that with the three remaining spots, Derrek slotted right in as the Sova-flex player, stellar as the IGL and Will as the Duelist.
"We're starting from scratch here," Gares said, "and it's going to be a process. Teams are gonna play us, and unlike other teams in our region, there's not going to be a weak spot on this map. I feel like once we all hit our stride and everyone's comfortable in their roles, there's gonna be no stopping this team."
With all this in mind, Gares and ddk also made sure to confirm that Ethan's future with 100 Thieves is "to be determined" and that there is "a possibility that he's able to explore other options."
"This is so painful, Gares said, "because we tried everything to make this work and I think we both think Ethan is a star player in our region, but it really does clash with what we're trying to build."