Top Games
343 Industries Explores Cosmetics and In-Game Purchases for Halo Infinite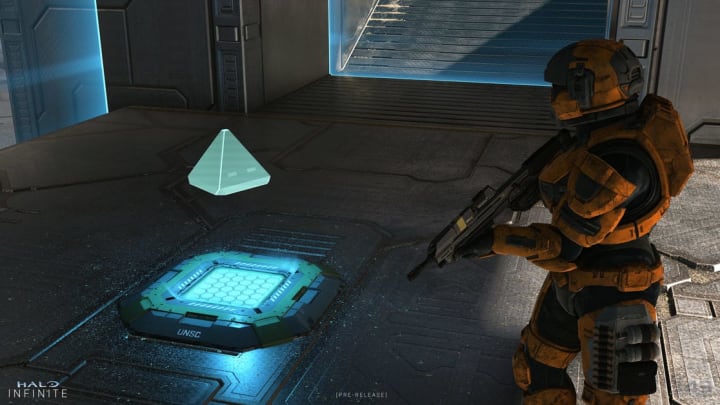 Photo courtesy of 343 Industries
343 Industries posted another "Inside Infinite," their monthly developer update. As with each update, this one has a specific focus. 343 Industries showcased the new challenges system and the subsequent rewards found afterward. And they also shared the different ways players can earn cosmetics and rewards.
You can read more about their Big Team Battle philosophy here.
The first question for many is how much is it going to cost and 343 Industries has kept a tight lid on the purchase price for in-game cosmetics. But it is very much a system in place. Here are the listed ways you can earn in-game cosmetics and rewards.
Weekly Ultimate Rewards  
Seasonal Battle Pass rewards (both free and premium tracks) 
Fracture Events - i.e. the "Yoroi" / Samurai armor 
Special or Seasonal Events - i.e. a special nameplate commemorating a real-world event, earning a Unicorn nameplate during a 343 Playdate, etc. 
Partnership and promotional items - i.e. Mega Construx codes or Rockstar Energy Drinks 
Skill Ranks – achieving a specific Skill ranking/tier for a season will award a unique cosmetic item

Xbox Game Pass Ultimate Perks
In- game store purchases
Halo Infinite Campaign - some unique Multiplayer cosmetics are rewarded for various accomplishments within the Campaign 
343 Industries is investing heavily in multiple systems for players to earn goods, not just your typical battle pass and in-game store. In the dev post, they showed an example of 20 weekly challenges which players might have.
Stay Off My Yard – Kill an Enemy Spartan Attacking a Friendly Zone (0/1) 
For the Win – Win a Quick Play Match (0/1) 
Castle Crasher – Complete a Strongholds Match (0/1) 
Spartan Killer – Kill Enemy Spartans in Slayer (0/3) 
Large Squad Scuffle – Complete a Big Team Battle Match (0/1) 
Play Ball – Play an Oddball Match (0/1) 
Back Smack Attack – Kill an Enemy Spartan from behind with a Melee Attack (0/1)
Wargames Warrior – Kill Enemy Spartans (0/10) 
Banshee Bomber – Kill Enemy Spartans with the Banshee's Fuel Rod Gun in PvP (0/5)
Mortar Minimizer – Destroy an Enemy Wraith in PvP (0/1)
Spread the Love – Kill Enemy Spartans with the Battle Rifle in PvP (0/15) 
Big Wheel Bully – Destroy Enemy Choppers in PvP (0/3)
Gaptacular – Knock an Enemy Spartan off the map with the Repulsor in PvP (0/1)
Noisemaker – Kill an Enemy Spartan with a Rocket Launcher in PvP (0/1) 
Wheelin' Dealin' Poultry Mealin' – Win Any PvP Matches (0/3)
Chef's Kiss – Kill an Enemy Spartan using a kinetic semi-auto or burst weapon with peak efficiency in PvP (0/1)
Flag Switching – Capture Enemy Flags in PvP (0/10)
Separation Anxiety – Kill Enemy Spartans by Sticking them with a Plasma Grenade or Spike Grenade in PvP (0/5)
Grapple-jack – Grapple to and Hijack Enemy Vehicles in PvP (0/3)
Autopilot Engaged – Kill an Enemy Driver of a moving vehicle with a Sniper Rifle in PvP (0/1)
If players complete all of these in a specific timeframe, they'll be given an Ultimate Challenge which has a specific reward.
Tactical Precision – Kill Enemy Spartans with a Headshot in PVP – (0/15) – "Rewards Abby Lime Sniper Rifle Coating." 
That means players could earn cosmetics once a week without ever spending money on a battle pass or in the store. The Halo Infinite technical preview will start on Sept. 23-26, and continue the following weekend, Sept. 30 - Oct. 3.