League of Legends
5 Best Bot Lane Duos in League of Legends Patch 12.12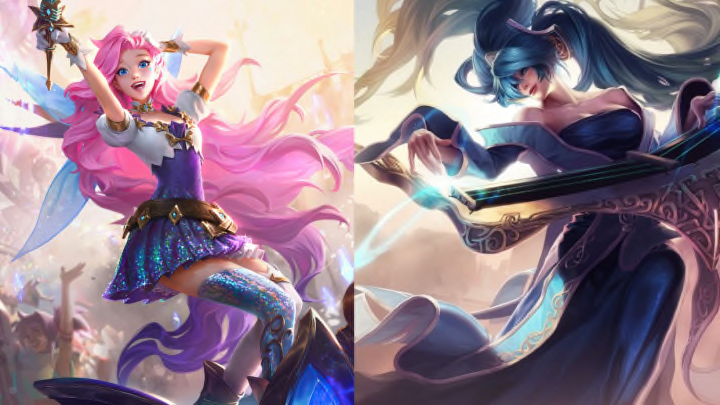 Seraphine and Sona Official Splash Arts / Courtesy of Riot Games
While every lane is important when it comes to winning a League of Legends game, good synergy between the ADC and support champion in bot lane can significantly raise your chances of dominating the laning phase. Certain updates made in Patch 12.12 and Patch 12.12b have made certain duo combinations forces to be reckoned with in the bot lane. Here are the top 5 best bot lane duos in League of Legends Patch 12.12, based off of data from U.GG.
5 Best Bot Lane Duos in League of Legends Patch 12.12
5.

Ashe + Renata
Ashe and Renata Glasc Official Splash Arts / Courtesy of Riot Games
Ashe and Renata are both relatively simple and strong champions to play, making them a solid choice when paired together. Since Ashe's Q grants her an Attack Speed boost, pairing it with Renata's W (which grants Attack Speed and Movement Speed), gives Ashe's main damage-dealing ability a major buff, allowing her to chase down enemies and take them out quickly.
4.

Samira + Renata
Samira and Renata Glasc Official Splash Arts / Courtesy of Riot Games
With just a slightly higher win rate than Ashe and Renata, Samira and Renata work well together for similar reasons. Samira's E grants her Attack Speed, which can be increased even more alongside Renata's W. Additionally, Samira's R has the ability to deal a lot of damage incredibly fast. Pairing this with Renata's W can allow Samira to take down enemies quickly and bring herself back to life in tricky situations.
3.

Seraphine + Senna
Seraphine and Senna Official Splash Arts / Courtesy of Riot Games
With a 55.66% win rate, Seraphine as an ADC paired with a Senna Support can make for an extremely strong combo. Seraphine has the ability to root enemies if her E hits an enemy who is already slowed, and stuns enemies who are already rooted. While Seraphine usually relies on her Passive to proc this ability twice and root enemies, Senna's rooting W ability allows the two to stun enemies with ease. Since both Champions have strong CC as well as healing abilities, they have a decent amount of sustain, and can keep enemies at bay with ease during the laning phase.
2.

Seraphine + Sona
Seraphine and Sona Official Splash Arts / Courtesy of Riot Games
While this bot lane duo may seem unconventional, Seraphine ADC paired with a Sona Support is doing extremely well thanks to some of the healing and shielding changes made to Patch 12.12, and the pair have a 55.20% win rate. This duo's main strength is their healing. Both Seraphine and Sona have strong healing abilities, meaning they're able to sustain themselves and their team in fights for a long period of time. While they may struggle with keeping up in terms of damage, timing both of their ult's correctly can keep enemies CC'd long enough to take them out, and the two can outlast almost any opponents in lane when played correctly.
1.

Tahm Kench + Senna
Tahm Kench and Senna Official Splash Arts / Courtesy of Riot Games
With a whopping 57% win rate, Tahm Kench and Senna have moved up from third place in Patch 12.11 to first as the best bot lane duo of Patch 12.12. Senna's E camouflages and grants Movement Speed to allies within it, making them undetectable. This combined with Tahm's W, which allows him to dive under the ground and reappear at an enemies' location, makes it nearly impossible to engage with Senna. In addition, Tahm's E combined with Senna's heal makes it extremely difficult to poke out Tahm, making ADC Tahm Kench and Support Senna a bot lane powerhouse.