5 Best Legend Takeover Zones in Apex Legends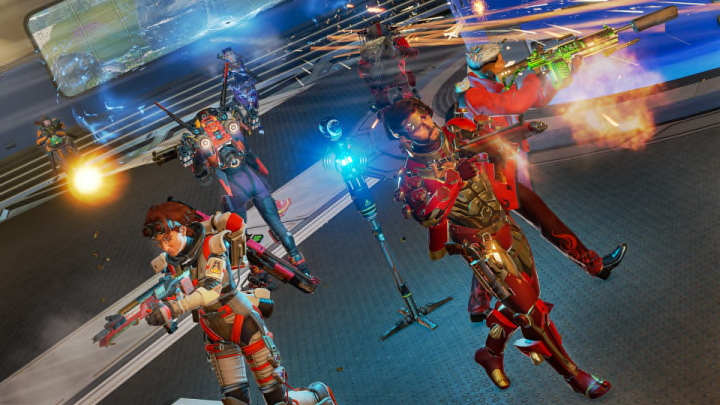 Here's our take on the top five best legend-specific areas in the history of Apex Legends. / Image courtesy of Respawn Entertainment
There have been quite a few additions to the Apex Legends maps over the past few seasons. Some of these have been legend-specific⁠—adding areas that correspond directly to a legend's strengths and/or backstory.
Here's our take on the top five best legend takeovers in the history of Apex Legends.
5 Best Legend-Specific Zones in Apex Legends
1.

Big Maude (Rampart)

This World's Edge zone has quickly become a fan-favorite among Apex Legends players. While Rampart, herself, may have the lowest pick rate of the roster, she's been placed in charge of more than one popular auxiliary event⁠—one of which being Big Maude.

Not only is Big Maude lore-friendly her fully-kitted vending machines, unique modded weapons, and constantly spawning material canisters make her one of the best places to load-up on gear.
2.

Fight Night (Pathfinder)

Fight Night introduced one of the more enjoyable new features to the game: boxing! For the first time, players are pitted against each other in fully unarmed combat for some of the highest loot available in the match. This not only breaks up the monotony of the game but also provides a way to get some gear that isn't solely reliant on traditional FPS combat.
3.

The Gauntlet (Octane)

This one is in here because it's fun. There isn't a lot of loot to be had in the Gauntlet, but it sure is exhilarating to go from the ground to a launch pad hurling you several feet in the air and in through a ring of fire⁠—which, of course, holds a decent prize for those brave enough to make the leap.
4.

Caustic Treatment (Caustic)

If your favorite schoolyard game was "The Floor is Lava," this zone is for you. The ground in this zone is quite literally toxic and will damage you if touch it, but the entire area also holds at least four pieces of high-quality gear if players work to drain the toxins.

Depending on how much you want to duke it out while trying to avoid touching the floor, this could be one of the better places to drop.
5.

Map Room (Crypto)

The Map Room isn't a bad place to visit, but its biggest advantage⁠—revealing the location of other players⁠—isn't strictly useful at the moment. After all, legends don't stay static on the battlefield, meaning that by the time the map reader gets to where Bloodhound last dropped, they might already be gone.