5 Improvements We Want for Caldera in Warzone Pacific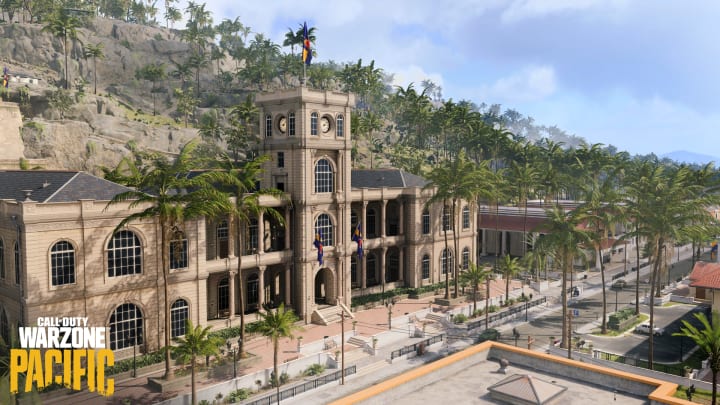 Here are five things we want to see improved in Call of Duty: Warzone Pacific. / Image courtesy of Activision
Warzone Pacific was sought to be a new era of Call of Duty battle royale goodness, and while a new map was sorely needed, it's becoming quite clear that there are many things that the community is struggling to stomach.
Here are five things we want to see improved in Call of Duty: Warzone Pacific.
5 Improvements We Want for Caldera in Warzone Pacific
5.

A Bit Less Vegetation

Of course, considering the theme of the map and how minor this change would be, this is the lowest in priority of the list. In Caldera, the amount of foliage at times contributes to making enemies tough to spot, and thus slows down the pace of the game. Also, considering how slow the vehicle speeds are, if you find yourself getting snagged, it takes precious time building back speed.
4.

Increase Price of Streaks and Self-Revives

With Raven Software announcing how something needs to be done about there being an "overabundance of Cash" in Warzone at the moment, perhaps a better way to go about it is to simply increase the price of certain buy station items. It can be argued that the money is fine and that not being able to buy loadout early is what's leading to everyone buying streaks and self.
3.

Easier-to-Use Vehicles

Driving is difficult in Caldera with the number of obstacles and elevation present, and with most roads being thin and narrow. As such, it's hard to land deep out of the zone at POIs and be confident that you can get to the first circle, like in Verdansk. The change in elevation between POIs is pretty dramatic, with rocks truly buffering access at nearly every access point.
2.

Possibility to Buy Loadout Anytime

This one is a no-brainer. The pace of Caldera is significantly slower than Verdansk, and the loadout delay change has only made that worse.
1.

Overhaul Middle of Map/Change Circle Algorithm

This is the toughest change to implement here as it deals with the fundamental setup of the map. While Caldera is full of great POIs, they're spread out pretty far and are almost all around the edge of the island. The center of the map is mostly hilly and barren, and that's where the circle seems to pull to a majority of the time. Although this was likely the idea for the map, this can cause players to feel like the mid-to-late game is less unique each time, as compared to Verdansk.