Activision Blizzard VP Warns Employees Off Unionization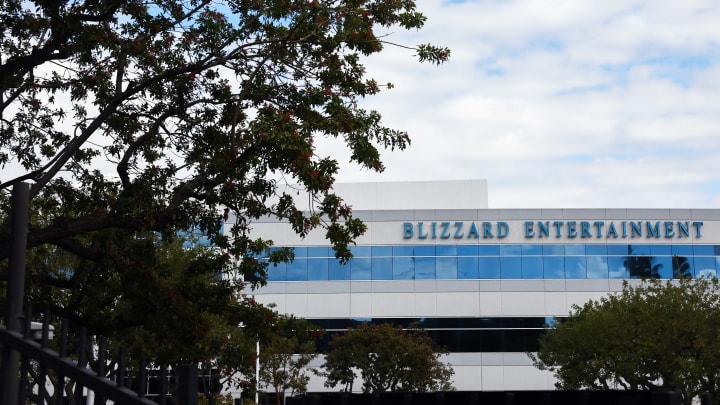 The union fight at Activision Blizzard continues to heat up. / Mario Tama/GettyImages
An Activision Blizzard vice president has sent a message to employees in an apparent attempt to tamp down on unionization efforts across the company.
Activision Blizzard Vice President of Quality Assurance Christian Arends shared what purported to be a kind of FAQ about unionization with employees via Slack on Monday. Former Blizzard employee and founding member of the ABetterABK employee group Jessica Gonzalez shared the message to Twitter.
"VP of QA at Activision just posted in this shit in company slack LOL," she wrote. "This was posted in a channel where you can't reply to threads. Sad..."
Arends opened by saying Activision Blizzard "respects employees' NLRA rights to have these discussions about potential unionization and supports your rights to do so." But he went on to undercut the unionization efforts at Activision Blizzard, and to recite common union-busting talking points.
"Job security here at ABK rests with out ability to produce epic entertainment for our fans," he wrote. "A union doesn't do anything to help us produce world-class games, and the bargaining process is not typically quick, often reduces flexibility, and can be adversarial and lead to negative publicity. All of this could hurt our ability to continue creating great games.
"Even union contracts with 'just cause' and grievance procedures still allow companies to enforce disciplinary rules, and CWA members are disciplined and terminated even with these so-called protections."
Arends also detailed the changes to negotiating with the company when the responsibility moves from individual employees to a union.
"In a direct relationship model, where you and the company share goals, agreement is quick, and the company can swiftly make changes. In a bargaining model, agreement and change comes quickly onle where the union has the exact same goals and also has no additional goals that it would rather insist on. It often takes months or years to come to a collective bargaining agreement. A unionized company cannot act quickly on its own if the union does not agree with its position."
Many of Arends' points are of dubious merit. While it's true that job security at a games company often ultimately depends on the company's success, union-negotiated agreements frequently make it harder for companies to fire or lay off employees. Those agreements also typically earn more generous severance packages when terminations can't be avoided.
It's also true that negotiations between companies and unions can take a long time. That's often because companies drag out the process for as long as possible, attempting to undermine the union. The so-called direct relationship model also leaves the individual employee little leverage to bargain harder when they and the company aren't aligned. Unions can bargain more aggressively because they represent many employees at once.
ABetterABK has yet to respond directly to Arends' bulletin. Unionization efforts began at Activision Blizzard in December, and Raven Software quality assurance employees are headed for an NLRB unionization vote following Activision Blizzard's decision not to voluntarily recognize the union.