FIFA
Alexandre Pato FIFA 22: How to Complete the Flashback SBC
By Michael Grullon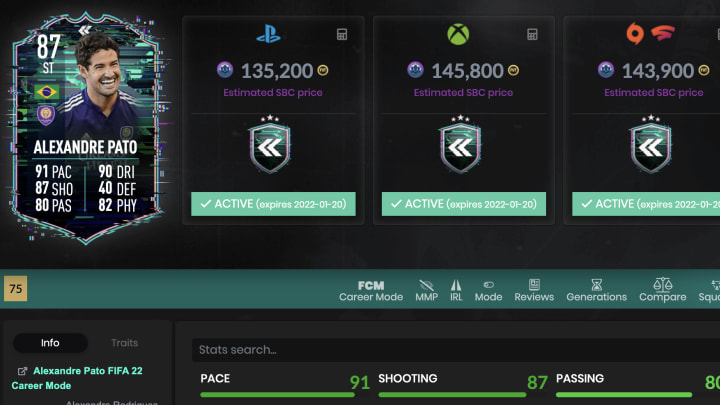 Alexandre Pato has received a special Flashback SBC item in FIFA 22 that celebrates his 10/11 Serie A season with AC Milan. / Photo Courtesy of FUTBIN
Alexandre Pato has received a special Flashback SBC item in FIFA 22 that celebrates his 10/11 Serie A season with AC Milan. Pato has had plenty of special cards in past FIFAs that have performed well, and this one looks to be a very nice card and his first since FIFA 19.
Here's how to complete the Alexandre Pato Flashback SBC in FIFA 22 Ultimate Team.
Alexandre Pato FIFA 22: How to Complete the Flashback SBC
Pato's Flashback SBC requires three squad challenges to complete, each with the following requirements.
Squad 1
Players from Milan: Min 1
TOTW Players: Min 1
Team Rating: Min 83
Team Chemistry: Min 80
Reward: Small Rare Mixed Players pack
Squad 2
Players from Brazil: Min 1
Team Rating: Min 84
Team Chemistry: Min 75
Reward: Prime Mixed Players pack
Squad 3
Players from Serie A TIM: Min 1
Team Rating: Min. 85
Team Chemistry: Min 70
Reward: Prime Electrum Players pack
The SBC in total will set you back around 140,000 coins to complete from scratch. Pato looks like another great attacking option, with good dribbling and pace and solid finishing stats. His four-star skill moves and weak-foot are a plus, and high/low work rates are icing on the cake, meaning he will be up front to make runs behind the defense almost always if set on "stay forward." A finisher or Marksman chemistry style would help boost his shooting and dribbling to top levels, the Marksman giving him great physicals as well. If you want to improve his passing, a Deadeye chemistry style isn't too bad either, depending on how you use your attackers.
For his price, Pato is a cool card to add to your club, and can fit in your team if you have Brazilian players or just be a super sub. If you have players like David Neres or Anderson Talisca, you can make a fun off-league Brazilian attack that can bang goals for you. For long-time players, he may have sentimental value for his past cards. Overall, Flashback Pato looks to be a good value card to complete. Let us know if you agree.
Pato's Flashback SBC expires on Jan. 20.