ALGS North America Split 1 Playoffs: How to Watch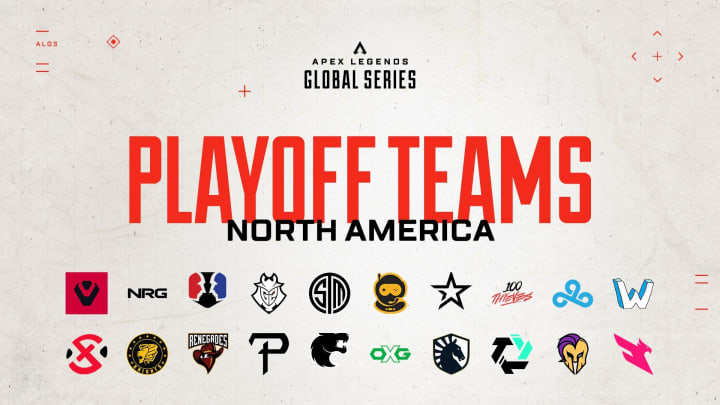 Image courtesy of Respawn Entertainment
With the South America, APAC South, and EMEA teams having already competed, the Apex Legends Global Series (ALGS) North America Split 1 Playoffs is set to kick off this Sunday at 5 p.m. ET.
Here's a breakdown of how to watch the ALGS NA Split 1 Playoffs this weekend.
As announced in advance, the ALGS NA Split 1 Playoffs is one of five separate online tournaments, with the top 20 teams from the Split 1 Regular Season in each region competing in a Match Point series.
The 20 teams competing for NA supremacy and a split of the $1 million USD Split 1 Playoffs prize pool are:
Sentinels
NRG
Esports Arena
G2 Esports
TSM
Spacestation Gaming
Complexity Gaming
100 Thieves
Cloud9
Dubblyew
XSET
Pittsburg Knights
Renegades
Premier
FURIA Esports
Oxygen Esports
Team Liquid
Torrent
Noble
Lazarus
The Split 1 Playoffs for NA will also debut the Multiview feature, which is said to give viewers "exponentially greater control over how they consume" ALGS matches.
Viewers on the official PlayApex Twitch channel will reportedly have the option to watch the event on two to four split-screen windows using a Command Center functionality tool for multiple viewpoints, with the ability to choose which teams and players to watch and listen to their in-game audio. 
Experience everything, from the drop, to looting, every strategic rotation, every clean wipe, every clutch play, every kill, and every final circle through the eyes of the players you choose to watch. This is the ALGS like you've never seen it before.

- Respawn Entertainment
Additionally, Respawn and Twitch are also partnering up to give Apex players a chance to secure some free, exclusive, limited-time in-game items for their legends:
1 Cumulative Hour Watched: Rare 'ALGS Playoffs '21' Holospray
2 Cumulative Hours Watched: Rare 'Scarlet Scale' Prowler skin 
3 Cumulative Hours Watched: Rare 'Singularity' Bloodhound skin
4 Cumulative Hours Watched: Epic 'Champions Cup' Gun Charm