All Fortnite Vibin' Quests & Rewards in Chapter 3 Season 3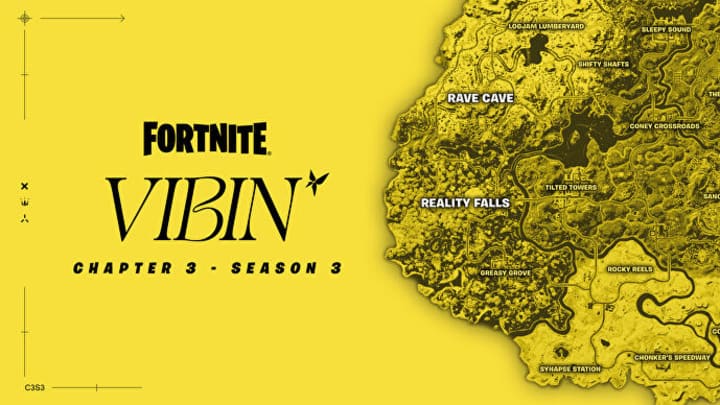 Courtesy of Epic Games
The Fortnite Vibin' Quests are back for players to earn extra XP, allowing them to earn free cosmetics and level up their battle pass.
The Vibin' Quests are an addition to the weekly challenges and are related to the story of Chapter 3 Season 3. As players complete the five parts of the Vibin' Quests, they will discover secrets behind the Reality Roots spreading across the island.
All Fortnite Vibin' Quests & Rewards in Chapter 3 Season 3
Fortnite Vibin' Quests Part 1
Establish Device Uplink
Collect 6 food consumables for the party
Interact with 5 party poppers in the Rave Cave
Establish Device Uplink
Destroy 10 objects at old IO Outposts
Spray peace sprays on structures at old IO Outposts three times
Establish Device Uplink
Collect a Reality Seed from a Reality Pod
Take a Reality Seed to 3 named locations
Plant or transplant a Reality Seed
Fortnite Vibin' Quests Part 2
Establish Device Uplink
Scan the Reality Tree
Scan the root between the Reality Tree and the Reality Bloom
Scan the Reality Bloom
Establish Device Uplink
Harvest fruit from Reality Saplings
Establish Device Uplink
Acquire Bushranger seed from Mysterious Bloom
Bring Bushranger to Reality Tree
Establish Device Uplink
Interact with 3 Zero Point Scanning Devices
Fortnite Vibin' Quests Part 3
Establish Device Uplink
Damage 500 opponents using a Star Wars weapon
Establish Device Uplink
Plant 3 Listening Devices at Imperial Docking Bays
Establish Device Uplink
Fortnite Vibin' Quests Part 4

Establish Device Uplink
Visit Beach Bash where the Sith Holocron washed up
Investigate 3 clues to the whereabouts of the Sith Holocron
Establish Device Uplink
Collect an anomaly from both Logjam Lotus and Butter Bloom
Establish Device Uplink
Collect a tracking device from Synapse Station
Dumpster Dive for fake relic materials
Construct a fake relic at Sleepy Shrubs
Establish Device Uplink
Locate where the Sith Holocron is being held in Rave Cave
Pry open shipping boxes to find Sith Holocron
Fortnite Vibin' Quests Part 5
Part 5 of the Vibin' Quests will be released on July 12 2022. While you wait for the update, continue working on completing the four parts of Fortnites Vibin' Quest! Once you finish all challenges of the Fortnite Vibin' Quest, you will receive Bushy's Bulb Back Bling Cosmetic.