Apex Legends 'Dark Depths' Event Revealed: New Arenas Map, Cosmetics, and More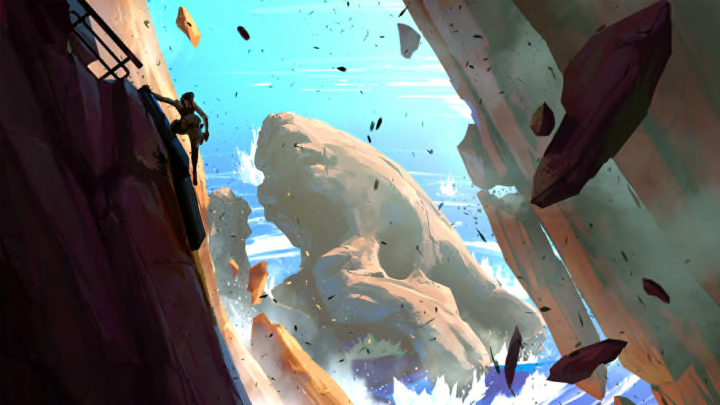 Respawn Entertainment has announced its latest event in Apex Legends: Dark Depths. / Respawn Entertainment
Respawn Entertainment has announced its latest event in Apex Legends: Dark Depths.
It looks like the theme heading into 2022 is terror on the high seas as Apex Legends fans gear up for the latest in-game event. Respawn announced "Dark Depths," themed around the myths that lie above and below the water's edge, on Jan. 6 through a post on the verified Apex Legends Twitter account.
"The waters of Storm Point may look clear, but the Legends know that danger lies within," the tweet read, "Channel the might of the seas in the Dark Depths Event!"
Apex Legends 'Dark Depths' Event Details Revealed
Apex Legends' Dark Depths kicks off on Tuesday, Jan. 11 and it set to run until Tuesday, Feb. 1.
As with any upcoming event in a popular title, this isn't the first time fans have heard of Dark Depths. There have been a number of datamine dumps and leaks regarding, above all else, the limited-time cosmetics and bundles set to launch alongside it. Below, we've provided everything we know about the event from the official source and credible reveals.
New Arena Map: Habitat 4
Arena fans have a new map to explore in the form of a Leviathan breeding ground known as "Habitat 4"—or, simply, "Habitat." Previously used as a site to study the creatures' behavior, Habitat 4 is littered with remnants of Leviathans both old and new.
"Through the passage of time it has eroded the landscape, forming trenches and terraces of varied elevation. Making this island a paradise for slides and quick getaways." The Apex development team wrote.
There are two points of interest on the map: the Cave and the Nest. The two are polar opposites with the former providing close combat encounters in an enclosed area and the latter setting up a series of eggshell covers for long-range shootouts.
Dark Depths Packs, Cosmetics and Bundles
Dark Depths Packs are the new loot box introduced for this thematic event. According to the Apex team, each one guarantees players a shot at a new, non-duplicated Dark Depths item. While the corresponding items will be the only thing available in a Dark Depths Pack, they will join the pool of available cosmetics that can be pulled from an Apex Pack.
As revealed by dataminer KralRindo early last December, Dark Depths will offer 40 new themed-cosmetic items for a limited time, including:
"Broseidon" Fuse
"Denizen of the Deep" Ash
"My Wave" Lifeline
"Overfloater" Horizon
"Barracuda" Caustic
"Bioluminescence" Loba
"Feeling Koi" Rampart
"Sea Streak" Octane
Barnacle Buster
Inked and Infused
Sea Stalker
Siren Song
"Barnacled" Gun Charm
"Bombs Away!" Gun Charm
"Luminous Lanyard" Gun Charm
"What's Kraken!" Gun Charm
Some of these will be packaged into bundles that will be available in the in-game shop in staggered segments alongside unique Dark Depths Packs. One set will be available from Jan. 11 to Jan. 18 and the other will pick up on Jan. 18 and carry through to Feb. 1.
The items available from Jan. 11 to Jan. 18 are:
Dark Depths Pack—400 Apex Coins
Broseidon—1800 Apex Coins
Broseidon Bundle—2500 Apex Coins
Denizen of the Deep—1800 Apex Coins
Siren Song Bundle—4000 Apex Coins
Deathproof Bundle—2150 Apex Coins
Fashionable Bundle—2150 Apex Coins
The items available from Jan. 18 to Feb 1 are:
Dark Depths Pack—400 Apex Coins
Broseidon Bundle—2500 Apex Coins
My Wave—1800 Apex Coins
Overfloater—1800 Apex Coins
Siren Song Bundle—4000 Apex Coins
Void Protector Bonus Bundle—1800 Apex Coins
Haute Drop Bundle—2150 Apex Coins
These items can always be crafted with the appropriate crafting materials.
Dark Depths Flash Events
Flash Events are short, week-long stints that make up the event. There are three in total which span from Jan. 11 to Jan. 18, Jan. 18 to Jan. 25, and Jan. 25 to Feb. 1. Each one features a few primary rewards and a special badge for players who progress through that week's tiers by completing in-game challenges. These are:
Week One: Apex Packs, Epic Holospray, Load Screen
Week Two: Apex Pack, Valkyrie Epic Holospray, 1 Dark Depths Pack
Week Three: Epic Revenant Holospray, Epic Alternator Skin, Epic Revenant Skin
More information can be found on the News tab of the Apex Legends website.