Apex Legends Imperial Guard Collection Event Announced: Dates, Playlist, Heirloom Revealed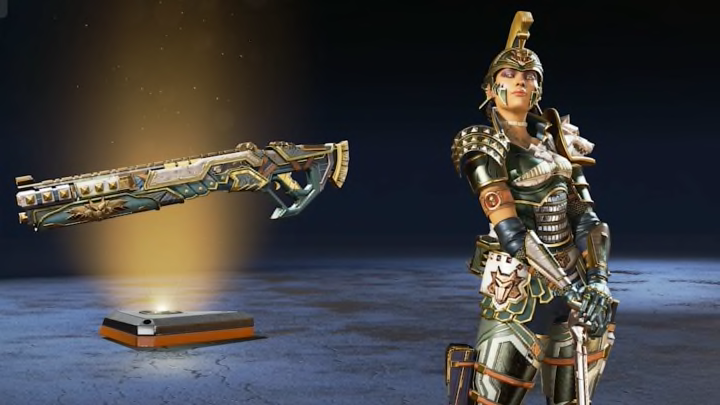 Respawn Entertainment
Respawn have announced the next Apex Legends Collection Event — Imperial Guard. Here's everything you need to know.
After being hinted at by leaks for the past few weeks, Respawn have revealed the Imperial Guard Collection Event for Apex Legends, coming this season. The event will feature a variety of new skins for characters and weapons, as well as Mixtape: a playlist which permanently features a rotation of Team Deathmatch, Control and Gun Run. Mixtape modes will also be added to Custom Matches.
With every Collection Event, there's always the anticipation of the next Heirloom, and this time around players can get their hands on Wraith's new "Hope's Dawn" Heirloom. This new version of Wraith's Kunai Heirloom, Hope's Dawn comes with new details and changes.
The Hope's Dawn Kunai set will give players access to new animations, VFX, color variations, a new Mythic emote, and a Mythic Banner.
In addition to the Heirloom, players can unlock 24 limited-time cosmetics, with Legendary skins for Wraith, Gibraltar, Loba, and more. All 24 items will be available in exchange for Apex Coins or Crafting Metals and in Imperial Guard Collection Event Apex Packs. Respawn has also announced that all Crafting Metal prices for event items will be reduced by 50%, so players can get their hands on cosmetics sooner.
So, when does the Imperial Guard Collection Event begin?
Apex Legends Imperial Guard Collection Event Start and End Date
The Imperial Guard Collection Event in Apex Legends begins on March 7 and runs until March 21, 2023.
During this time, players will be able to grab a number of different bundles themed around protection, such as Pathfinder's "Down Right Fierce" Bundle, only available March 7 to March 14, or Valkyrie's "Air Orchid" Bonus Bundle, available March 14 to Match 21. 
Apex Legends Imperial Guard Collection Event Match Requirement Changes
In addition to the new skins and bundles, the requirements for joining matches will be changing as part of Mixtape:
Players needed to start Battle Royale Mode: 30
Players needed to start Team Deathmatch mode: 12
Players needed to start Control Mode: 6
Players needed to start Gun Run: 6
Apex Legends: Revelry is now available for the PlayStation 4, PlayStation 5, Xbox One, Xbox Series X|S, Nintendo Switch, and PC via EA App and Steam.